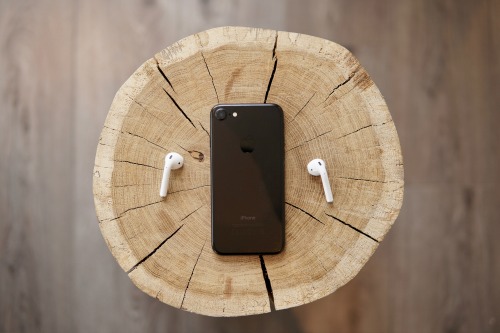 Apple has announced iOS 10.3 with the highly requested "Find my AirPods" feature, new Apple File System (APFS) implementation, and a number of developer improvements. Other enhancements include bug fixes and touch ID authentication for its Numbers, Pages, and Keynote productivity apps.
The latest version of the mobile operating system went through seven beta versions before finally reaching completion this week.
Before updating to iOS 10.3, Apple and iOS experts urge users to backup their devices to Apple's cloud. Although it seems like a no-brainer, it's critical that users backup their phone before updating to this release due to the new file system that Apple is introducing with this version.
The new file system replaces Apple's 30-year-old file system, HFS+. APFS is optimized for Flash and SSD storage, and includes stronger encryption and file cloning, according to a Business Insider report.
While this is a big improvement for Apple, these two file systems are not compatible with each other. APFS replaces HFS+, so if a glitch were to happen when updating to the new iOS version, all of the files stored on the device "could be toast," according to the Business Insider report.
In addition to the added security benefits from APFS, Apple patched major vulnerabilities that affected Apple products. In total, 84 issues were resolved in the iOS 10.3 release . The issues were found in different macOS components such as the iOS kernel, Safari Web browser, and other base modules in the macOS platform, according to Omer Medan, a researcher for enSilo, an endpoint security platform.
One of these vulnerabilities was disclosed to Apple by Medan. He found a vulnerability that allowed an attacker to change file system permissions on arbitrary files. The vulnerability affected all Apple products that rely on macOS, he said.  
Typically, Apple updates focus on improvements and speeding up devices, but now security is "garnering more attention at Apple," said Medan. The company is taking more proactive approaches to security, demonstrated with its bug bounty program which it introduced in August of 2016. He said for years Apple "shied away from this industry practice, and now that they've joined this program, they are offering rewards of up to US$200,000."
However, there is still more that Apple can do to make sure their devices and operating systems stay secure. Medan says that Apple should follow up more closely and directly with their open-source projects, especially since the vulnerabilities he disclosed were already fixed in the open source equivalents of the vulnerable macOS modules.
"[Apple] provides very restricted access to devices, even for security purposes such as monitoring and control capabilities, under the assumption that this will cause developers to do less harm," said Medan. "Ironically, what eventually happens is that the same type of vulnerabilities that appear in Windows and in macOS, but do not have impact on a Windows-based machines, will cause full-blown root access on an Apple device."
He said Apple is strengthening their security with mechanisms such as XPC and SIP, but his company is "still seeing vulnerabilities there as well."
Behind the scenes: How Apple makes its updates run smoothly
In the past, Apple has set the bar pretty high, making sure every detail in each release is right before sending it out to the public, according to Russell Smith, CTO at Rainforest QA. But there has been a shift with this new update "where Apple is now allowing developers to ship pre-release builds, historically reserved only for developers, out to the public through a new iOS beta software program," said Smith.
"The main reason is likely to reduce costs, increase testing coverage and ostensibly application quality," said Smith. "There is, however, a significant tradeoff and any developer considering this route must understand that this process makes fixing any bugs much harder. The more cooks in the kitchen, the more bugs will be 'discovered,' some of which may not be meaningful or even easy to reproduce."
Smith added that it's up to Apple to figure out how to "triage bug fixes" without having the device, software, settings installed on it, or even the ability to communicate with the person who found the bug.
"This puts far more work on their developers, and creates a borderline impossible task for them given the limited information they receive about a given bug, and having no access to the devices on which tests were run," said Smith.
So while releases like iOS 10.3 are still high-quality, the time it takes Apple to find and solve these bugs ahead of release schedule increase. This new burden is added to early adopters and developers' job descriptions, Smith explained.
Features and improvements in iOS 10.3
Besides the new file system and security improvements, Apple also introduced several big features and changes in iOS 10.3.
Here's a rundown of some of the changes:
Updates to Numbers, Pages, and Keynote productivity apps: According to AppleInsider, Keynote now allows users to import Keynote 1 presentations to post presentations on other websites like Medium or WordPress sites. Keynote can replace missing forts and quickly open password-protected presentations with the Touch ID on the 2016 MacBook Pro or other iOS devices with the fingerprint sensor, according to the report. Users can also add mathematical equations to their documents in Pages with LaTeX commands or MathML elements, which will include mathematical expression and equations right into a Pages document.
Developer benefits: Developers can use the SKStoreReviewController API, which will ask users to rate or review an app while they're using it without sending them back to the App Store. Developers can determine the points in the user experience at which it makes sense to call the API, then the system takes care of the rest, according to Apple. Developers will be able to respond directly to customers, which was one of the big Apple App Store limitations. Now developers can respond to comments and provide feedback to App Store reviews by tapping "Helpful" or "Not Helpful."
Find my AirPods: Apple released its new wireless headphones back in December of 2016, and finally customers will have a way to find their lost or misplaced AirPods with this iOS update. AirPods owners can use the Find My iPhone feature to play the sound on one or both AirPods if they are having trouble finding them. Or, they can view the last location of where the AirPods were synced with their device.