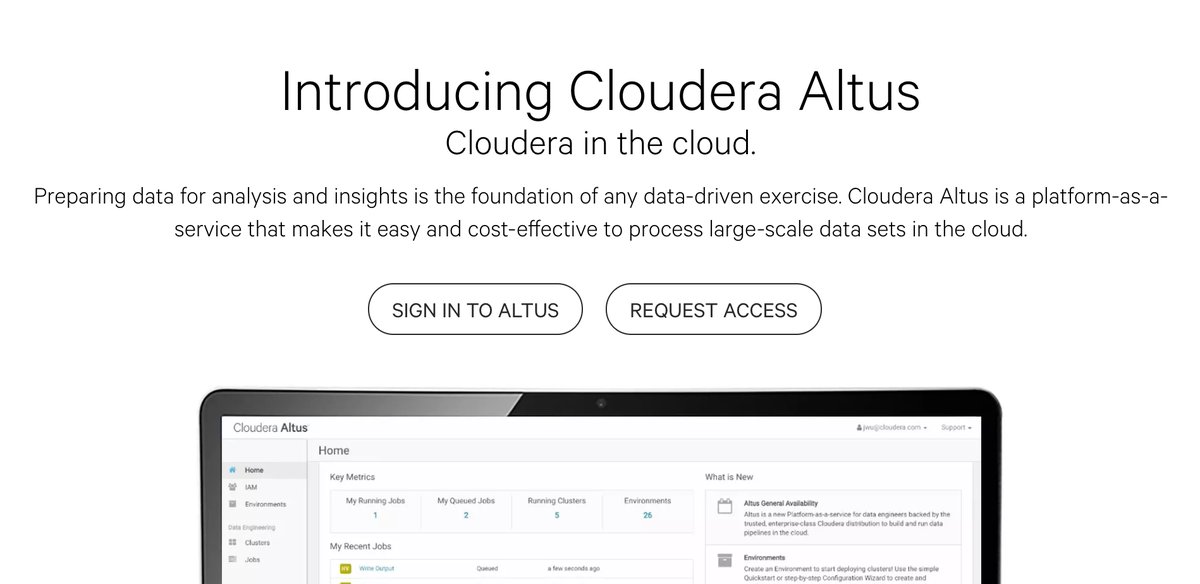 Cloudera is launching a new Platform-as-a-Service (PaaS) offering to simplify Big Data workloads in the cloud. Altus is designed for large-scale data processing applications on the public cloud. It features managed services for elastic data pipelines, workload orientation, the Altus Data Engineering service, backward compatibility and platform portability, and built-in workload management. In addition, the initial roll out will support Apache Spark, Apache Hive on MapReduce2, and Hive on Spark.
"Data engineering workloads are foundational for today's data-driven applications," said Charles Zedlewski, senior vice president of products at Cloudera. "Altus simplifies the process of building and running elastic data pipelines while preserving portability and making it easy to incorporate data engineering elements into more complex BI, data science and real-time applications."
MapR Distributed Deep Learning Quick Start Solution
MapR is training complex deep learning algorithms with its new data science solution. The MapR Distributed Deep Learning QSS provides a framework for continuous learning, experimentation and operationalizing deep learning applications.
The solution provides the ability to extract insights from video and images, understand and predict sequence of events, and classify and forecast models. "Our expertise in advanced machine learning deployments coupled with the unique design of the MapR Platform form the foundation for our new offering. The QSS will enable companies to quickly take advantage of modern GPU-based architectures and set them on the right path for scaling their deep learning efforts," said Anil Gadre, chief product officer for MapR.
Fugue launches Fugue Team Conductor
Fugue announced new cloud governance capabilities to AWS infrastructure operations, as well as the launch of Fugue Team Conductor, which extends Fugue's code validation, access control, multi-account management and continuous policy enforcement capabilities.
With Fugue Team Conductor, customers can manage their environments across AWS accounts. It also allows customers to avoid issues like wasteful spending, security vulnerabilities, and audits.
"Every enterprise that scales out its cloud operations runs into the same challenges of managing ever-increasing complexity and ensuring governance, resulting in wasted spending, increased risk, and agility loss," said Josh Stella, founder and CEO of Fugue. "Fugue collapses the complexity of managing the cloud at scale and enforcing compliance and security policies at every step of cloud operations. Fugue doesn't force customers to make tradeoffs between control, speed, and spend."
Realm announces logic layer to Realm Mobile Platform
Mobile developers can now build enhanced applications and features that rely on server-side functionality with Realm's new logic layer to the Realm Mobile Platform. The layer gives developers the ability to build application functionality without requiring backend development skills or assistance from other programmers.
According to the company, Realm Functions is an approach for Android and iOS developers to add server-based features right into their apps, in a serverless fashion. Developers can get access to sample code from the public GitHub repository and find more information here.
Quest adds new releases to its database management portfolio
Quest Software announced new releases to its database management and performance monitoring solutions. The new releases are meant to give organizations the ability to easily manage, monitor and optimize Microsoft SQL Server environments.
The new release of Spotlight on SQL Server enables database monitoring for SQL Server on both Windows and Linux. Quest also announced the Spotlight Extensions for Microsoft SQL Server Management Studio, as well as the SharePlex release, which enables source replication from Microsoft SQL Server for database replication on-premises and into AWS and Azure cloud platforms.
Also, Quest announced the new release of Toad for SQL Server, which supports SQL Server 2016 and Microsoft Team Foundation Server 2015 Version Control, so database administrators can run faster and more reliable databases, according to Quest.  
New Relic adds capabilities to New Relic Digital Intelligence Platform
In order to give enterprises more visibility into the performance of their capabilities, New Relic unveiled new features to its New Relic Digital Intelligence Platform. New Relic's Health Map feature brings in insights from applications and infrastructure performance, so teams can understand the source of the performance issue and get it resolved quickly.
New Relic is also bringing in the power of New Relic APM and New Relic Infrastructure so teams can view their applications and the infrastructure supporting those applications. In addition, New Relic announced a new SDK, where system administrators and DevOps teams can standardize the monitoring of custom services, according to the company.
Syncfusion's Essential Studio 2017 Volume 2 release
Syncfusion is updating its entire product line with a focus on Xamarin, UWP and ASP.NET MVC. The company's Essential Studio 2017 Volume 2 release features a sunburst chart and image editor for Xamarin, a Gantt control for UWP, a data range picker for ASP.NET MVC, and a list view control for Xamarin.
"Anticipating the needs of our developer community is the most important part of our planning process," said Daniel Jebaraj, vice president of Syncfusion, Inc. "They have expressed interest in more controls for the Xamarin platform, and we have delivered with this release. With the addition of the sunburst chart, image editor, and list view controls, we continue to lead the industry with more than 90 controls for Xamarin."