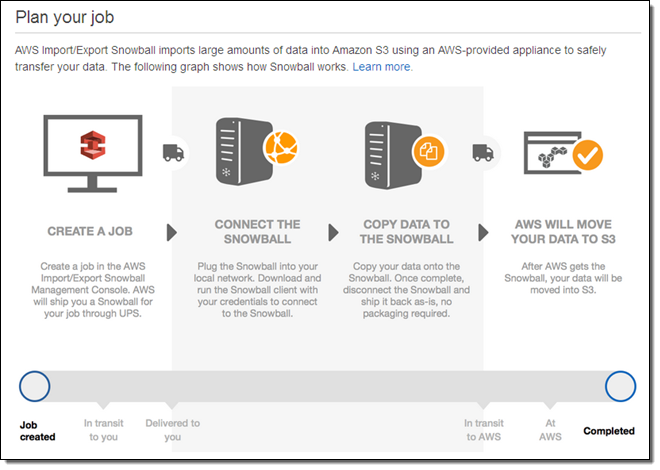 Amazon this week introduced new capabilities within its cloud of Web Services. The company debuted Amazon Snowball, an import/export system, as well as Amazon QuickSight, a business intelligence platform for the service.
The company also introduced an addition to the Kinesis streaming platform inside its cloud called Kinesis Firehose, which makes it easier to ingest streaming data into Amazon S3 storage.
(Related: Previous updates to AWS unveiled in July)
Snowball is actually a new service coupled with a device. The device is used locally to send through data, up to 1 petabyte per week, according to Amazon's Snowball release blog.
From the blog: "With Snowball, you don't need to write any code or purchase any hardware to transfer your data. Simply create a job in the AWS Management Console and a Snowball appliance will be automatically shipped to you. Once it arrives, attach the appliance to your local network, download and run the Snowball client to establish a connection, and then use the client to select the file directories that you want to transfer to the appliance. The client will then encrypt and transfer the files to the appliance at high speed. Once the transfer is complete and the appliance is ready to be returned, the E Ink shipping label will automatically update and you can track the job status via Amazon Simple Notification Service, text messages, or directly in the Console."
Amazon also introduced QuickSight, a business intelligence service offered within AWS. The tool is aimed directly at users of BIRT and Domo, as well as other business intelligence tools.
Finally, Amazon introduced Inspector, a new automated security assessment service that can be used to secure EC2 instances and other AWS resources.
Al Hilwa, program director for software development research at IDC, said that re:Invent had a lot of goodies for database and analytics folks. "I love the Snowball data shipping appliance, which shows some real out-of-the-box thinking at Amazon," he said. "The big news in the data space is the entry into the analytics with Firestorm, which builds on the successful Kinesis Streams. Given the explosive growth in data generated by health, wearable and other IoT devices, I am not surprised Amazon and others like Salesforce and Microsoft are investing heavily in this space."
Others there
Amazon wasn't the only company at re:Invent showing off new products. Threat Stack introduced Threat Stack Pro, a tool for securing workloads in the cloud, even when using containers.
Threat Stack chairman and CEO Brian Ahern said, "It's important to companies that their security products allow them to scale with confidence, achieve compliance and operate efficiently. Our Pro Edition moves customers closer to a single pane of glass with the ability to share Threat Stack's powerful insights with the other tools and processes that keep them moving fast. AWS re:Invent is the perfect place to introduce this important new offering that illustrates our momentum."
Teradata was on hand to announce that its Teradata Database would now be available in Amazon's cloud. Teradata has been under tremendous pressure from Big Data platform Hadoop in recent years, and this move brings its data warehousing solution into the cloud.
Chris Twogood, vice president of product and services marketing at Teradata, said, "This is a watershed announcement for Teradata because it illustrates a fundamentally new deployment option for what has long been the industry's most respected engine for production analytics. In terms of convenience, security, performance and market adoption, cloud computing has proven its value. By incorporating AWS as the first public cloud offering for deploying a production Teradata Database, we will make it easier for companies of all sizes to become data-driven with best-in-class data warehousing and analytics."
Azul Systems was at re:Invent to show off its real-time Java platform running inside Red Hat Enterprise Linux, which in turn is inside AWS. And CoreOS announced integrations between Tectonic and AWS. (Tectonic is a management system for running containers in the cloud.)
Alex Polvi, CEO of CoreOS, said, "We want to ensure businesses have the ability to scale their applications in containers by using Kubernetes on AWS. The combination of Kubernetes, CoreOS and AWS is another step forward in helping companies reach hyperscale. We invite companies to try out Kubernetes on AWS through the Tectonic AWS installer, available through the Tectonic Preview or through our open-source guides."
Splunk was also in Las Vegas for re:Invent. The company introduced a Splunk app for AWS that pulls in information from the various monitoring and logging services inside AWS, and presents them within a Splunk searching interface.
Marc Olesen, senior vice president of cloud solutions at Splunk, said, "The new Splunk App for AWS provides leading enterprises with additional visibility and security as they move mission-critical workloads to the cloud with confidence. As they efficiently and productively deploy and manage AWS environments, enterprises benefit from end-to-end visibility and the ability to monitor user activity, resource changes, topology, and network traffic flows."