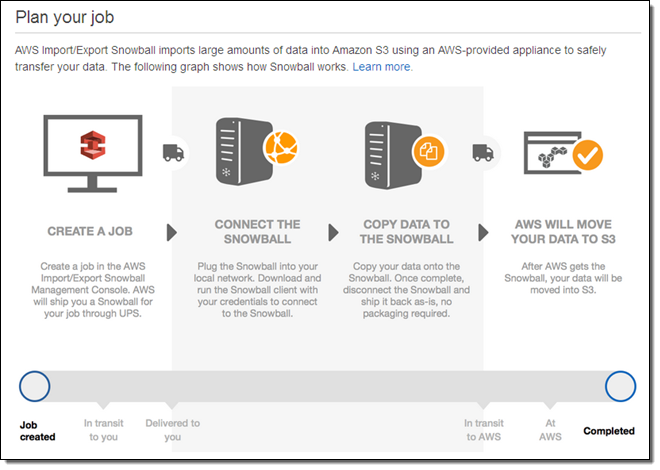 Amazon this week introduced new capabilities within its cloud of Web Services. The company debuted Amazon Snowball, an import/export system, as well as Amazon QuickSight, a business intelligence platform for the service.
The company also introduced an addition to the Kinesis streaming platform inside its cloud called Kinesis Firehose, which makes it easier to ingest streaming data into Amazon S3 storage.
(Related: Previous updates to AWS unveiled in July)
Snowball is actually a new service coupled with a device. The device is used locally to send through data, up to 1 petabyte per week, according to Amazon's Snowball release blog.
From the blog: "With Snowball, you don't need to write any code or purchase any hardware to transfer your data. Simply create a job in the AWS Management Console and a Snowball appliance will be automatically shipped to you. Once it arrives, attach the appliance to your local network, download and run the Snowball client to establish a connection, and then use the client to select the file directories that you want to transfer to the appliance. The client will then encrypt and transfer the files to the appliance at high speed. Once the transfer is complete and the appliance is ready to be returned, the E Ink shipping label will automatically update and you can track the job status via Amazon Simple Notification Service, text messages, or directly in the Console."
Amazon also introduced QuickSight, a business intelligence service offered within AWS. The tool is aimed directly at users of BIRT and Domo, as well as other business intelligence tools.
Finally, Amazon introduced Inspector, a new automated security assessment service that can be used to secure EC2 instances and other AWS resources.
Al Hilwa, program director for software development research at IDC, said that re:Invent had a lot of goodies for database and analytics folks. "I love the Snowball data shipping appliance, which shows some real out-of-the-box thinking at Amazon," he said. "The big news in the data space is the entry into the analytics with Firestorm, which builds on the successful Kinesis Streams. Given the explosive growth in data generated by health, wearable and other IoT devices, I am not surprised Amazon and others like Salesforce and Microsoft are investing heavily in this space."