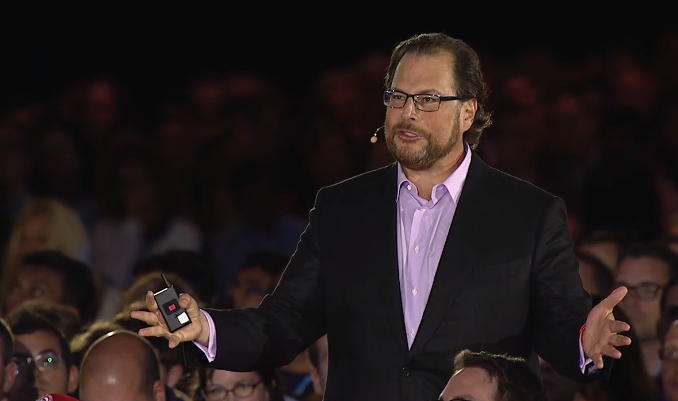 In a conference headlined with names like Hillary Clinton, the Beach Boys, Cake, Bruno Mars and Bono, you could be forgiven for mistaking Dreamforce for some sort of whacky business-themed music festival. Instead, it's simply the way Salesforce decided to get attendees excited about their newest announcements: a new analytics platform and Lightning, a rapid mobile application development stack.
Marc Benioff, chairman and CEO of Salesforce, took the stage in multiple keynotes to detail the company's new offerings. On Monday, he made bold claims about Wave Analytics Cloud, a new analysis product he claims can be used against any data source, not just Salesforce's own services.
"Today, Salesforce is disrupting the analytics market, just as we disrupted the CRM industry 15 years ago. We're not only connecting companies with customers in a whole new way with our Customer Success Platform, we're empowering companies to know their customers like never before with the groundbreaking Wave Analytics Cloud," said Benioff.
Perhaps more interesting to developers was today's announcement of Salesforce1 Lightning, a full stack of tools for developing mobile applications. The stack consists of six tools: the Lightning Framework, Lightning Components, Lightning Process Builder, Lightning Community Designer, and the Lightning Schema Designer.
The Lightning framework, said Benioff, is the same framework used by the internal teams at Salesforce. The Lightning Schema Builder provides a dynamic way to re-provision data within an existing Lightning app database. It can be used to add custom objects, fields and new data relations. Both are currently available.
Lightning Components is a selection of pre-made functions, such as lists, charts, and search functionality. These will be available in February, although beta versions are available now.
The Lightning App Builder is targeted at both developers and business users, giving them a simple drag-and-drop way to construct applications for phones, tablets and desktops alike. This tool will be available in beta form in February.
Similarly, the Lightning Process Builder gives business users a way of delineating business processes and workflows, from employee on-boarding to order fulfillment, all with a simple interface.
The Lightning Community Builder gives users tools for managing a community of users and customers, in conjunction with Salesforce1 Lightning's already existing functionality, which can observe Twitter posts to assess brand sentiment. Both the Lightning Process Builder and Lightning Community Builder will be available in February.
Al Hilwa, program director for software development research at IDC, wrote of the announcement: "The Lightning announcement is quite comprehensive with various functionality shipping now and some coming later. Along with the Wave analytics capabilities Lightning makes the Salesforce platform more compelling than ever. Together they represent the single largest addition to the platform since the acquisition of Heroku."