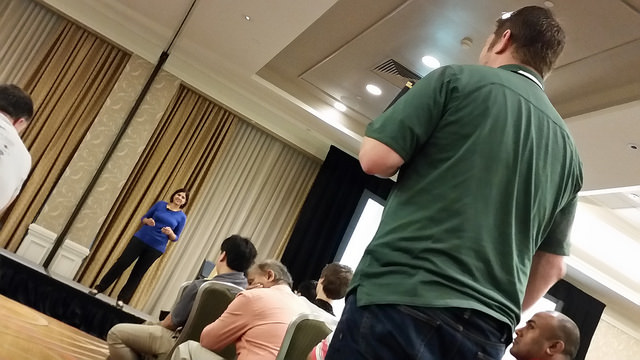 The Android Developer Conference may have started yesterday, but the big crowds at this morning's keynote from Google showed that today was when developers would find what they came for.
After a keynote entitled "The Future of Search and Apps," developers got to ask their own questions about that future.
(Related: What to expect from Android Developer Conference)
In a completely packed hall, Aparna Chennapragada, product director on Google Now, answered questions about the future of app discovery. The crowd wanted to know about every aspect of app discovery, hinting that their real desire was to find new ways to get to users.
But new paths to users are exactly what Chennapragada was offering. In her keynote, she spoke of three new ways Google is working to bring app developers closer to those coveted user installs and usage hours.
Chennapragada said that "Context is the new black. Everybody talks about it. Smartphones are getting smarter. You have a lot more cues about what the user might need. The kinds of things on your mind when you are stuck in [traffic] are very different from those that you'd have when you're on the beach. Context is important for users and developers."
She added that there are "roughly 3 million apps available for download, but only an average of 36 apps on American's phone. Three-fourths of these apps don't get used that much, and 1/4 don't get used at all."
This all adds up to a problem for which the developers in attendance were clamoring for an answer. "App discovery is really hard," said Chennapragada. "At Google we've been looking at this problem and thinking about how we could help. We're starting to see the fundamental problems."