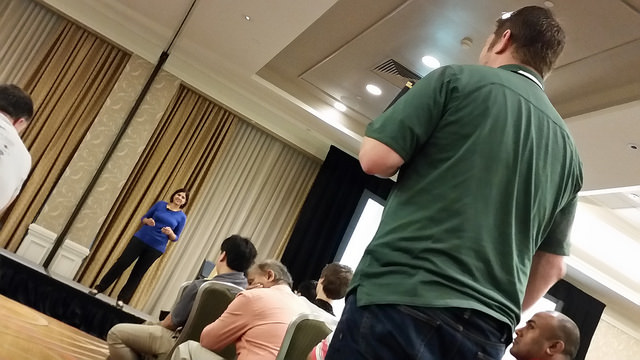 The Android Developer Conference may have started yesterday, but the big crowds at this morning's keynote from Google showed that today was when developers would find what they came for.
After a keynote entitled "The Future of Search and Apps," developers got to ask their own questions about that future.
(Related: What to expect from Android Developer Conference)
In a completely packed hall, Aparna Chennapragada, product director on Google Now, answered questions about the future of app discovery. The crowd wanted to know about every aspect of app discovery, hinting that their real desire was to find new ways to get to users.
But new paths to users are exactly what Chennapragada was offering. In her keynote, she spoke of three new ways Google is working to bring app developers closer to those coveted user installs and usage hours.
Chennapragada said that "Context is the new black. Everybody talks about it. Smartphones are getting smarter. You have a lot more cues about what the user might need. The kinds of things on your mind when you are stuck in [traffic] are very different from those that you'd have when you're on the beach. Context is important for users and developers."
She added that there are "roughly 3 million apps available for download, but only an average of 36 apps on American's phone. Three-fourths of these apps don't get used that much, and 1/4 don't get used at all."
This all adds up to a problem for which the developers in attendance were clamoring for an answer. "App discovery is really hard," said Chennapragada. "At Google we've been looking at this problem and thinking about how we could help. We're starting to see the fundamental problems."
Thus, she summed up three areas where she said the Google Now team was working to add app discovery to existing Google Now experiences.
The first method Chennapragada detailed was called "app indexing," and it involved apps showing up in search results. She said this was an ongoing process, and that currently only apps that have a simple 1-to-1 website relationship, such as AirBnB or Yelp, are being brought up in search results. But she added that other apps will be coming into the mix soon as her team figures out the right way to offer applications in search results.
Chennapragada said that initial work with Etsy on further search integrations, however, have yielded an 11% increase in app usage when users were directed to Etsy's app when searching Google for terms like "jewelry."
The second place for developers to find new interactions and usage inroads with users is around voice actions. Chennapragada said that Google's voice recognition services are vastly improved from when they were introduced, and that usage numbers have grown in conjunction with the system's improvements.
She added that young girls and teens are the biggest users of voice commands and services. These services can bring up installed apps, she said, and thus allow for re-engagement with users that may not be using an installed app frequently.
Chennapragada suggested that developers could also build custom voice actions, such as National Public Radio opening its app when a user says "OK Google, I want to listen to NPR."
The final area where developers can find a way to user engagement is through the Google Now API, said Chennapragada. This is the way to contextual usage, she said.
The Google Now API, she said, allows developers to unleash the "power of context. Knowing the context for any given user, we're able to proactively give them information." She offered an example of a user's phone notifying them when they're at the office late and they're about to miss the last train home.
While Google's app indexing efforts are currently in the test phase with larger, more popular apps such as Etsy and Uber, Chennapragada said that the next phase of the project will be to open indexing to all developers. She said that it is currently a work in progress.
The Google Now API and the voice actions are also works in progress, and her team is expecting to be able to engage with developers in the coming months.