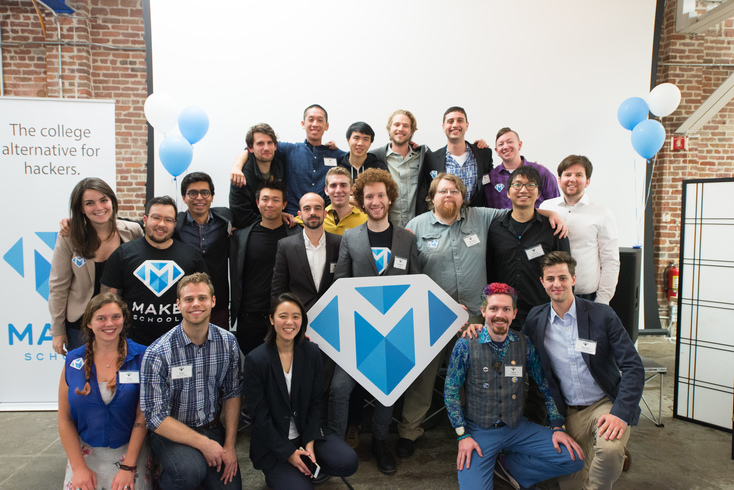 Phillip Ou had barely learned to code when he joined Make School's 2014 summer academy. A year later, after transferring from MIT to become a member of the educational startup's inaugural two-year "college replacement" class, Ou has published more than half a dozen iOS apps and is currently interning at Snapchat.
Ou is one of 11 students in the midst of spending two years attending Make School, a San Francisco-based educational startup that aims to replace traditional four-year computer science degrees. Cofounded by tech entrepreneurs Ashu Desai and Jeremy Rossmann, with funding from 500 Startups, Andreessen Horowitz, Reddit CEO Alexis Ohanian and Y Combinator, Make School teaches hands-on coding with an agile curriculum that changes yearly to promote the skills tech companies are looking for.
Faced with the decision of continuing his theory-based computer science education at MIT or taking a gap year to attend Make School, Ou decided he wanted to "build stuff."
"When I got a full ride to MIT, I was the first person in my family to ever go to college," he said. "As the son of immigrants, they have this path planned out for you. Get your degree, get a good paying job and lead a stable life. What shifted my mindset was this entrepreneurial culture at MIT—people building things because they loved it—and then Make School put me in Silicon Valley for the first time, and I met all these engineers, founders and VCs doing amazing things. It forced me to realize my greatest accomplishment, being a student at MIT, was essentially just a credential. That didn't sit right with me."
Make School's current curriculum includes Python for algorithms and theory, Objective-C and Swift for app development, Flask for app back-end development, Ruby on Rails for Web back-end development, and HTML, CSS, JavaScript and AngularJS for front-end development. All are taught in the context of students coming up with ideas and building on them. The school's exams are weekly code reviews with instructors going through each student's app, line by line.
According to Ou, students have the feeling of learning and working in a collaborative startup environment, all while meeting people and making invaluable connections in Silicon Valley.
"I got to sit in on Make School meetings where they talked about things like expanding our demographics and securing our next round of funding," he said. "We got to do stuff like have dinner with Reddit CEO Alexis Ohanian and pick his brain. It's pretty incredible. I've only been coding for a little more than a year, and right now in this startup I'm doing contract work for, I have full autonomy in building their new Apple Watch app."
Building Make School
Desai built his first iOS app in high school when the App Store came out. The game, Helicopter, sold more than 60,000 copies and gave him what he described as the most engaging educational experience he's ever had. It also opened up job and internship opportunities.
Desai studied computer science for a year at UCLA, but said the academic-style learning didn't really resonate. He wanted to build products. He left UCLA and cofounded MakeGamesWithUs, an app publishing startup focused on teaching high school and college students how to code games. Beginning in 2012 as a summer program, the startup ultimately evolved into Make School.
"All you need to get employed is to know how to build things. Nothing else really matters," said Desai. "So we started the company to teach high school and college kids how to code apps, and supplement that theoretical computer science they learned in school with the experience of building these real-world technologies, which is what companies really care about anyway."