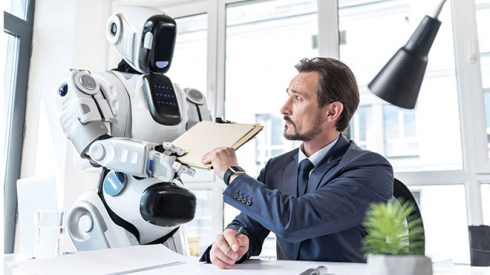 A new survey from ServiceNow illustrates that intelligent automation must become part of any transformative developer's bandoleer of capabilities — a realization driven by the fact that some 86 percent of executives surveyed globally feel their companies will soon hit a wall and, by 2020, will need greater automation to get work done.
SD Times recently spoke with Dave Wright, chief strategy officer at ServiceNow, to gauge what the survey results mean to today's software engineers.
Wright said, "It's clear that we can't keep up with the pace of work and most IT departments are far too busy. The survey shows that companies need workload relief now." Wright believes a shift to automate work is imminent and will happen faster than expected.
Wright said, "There's an economic payoff for automation that companies can't ignore. Our survey showed highly automated companies are six times more likely to experience revenue growth of more than 15 percent."
Wright pointed a multinational insurance corporation with more 65,000 employees to illustrate how intelligent automation results in better business process efficiency and productivity. This company recently deployed five "virtual engineers" inside its IT infrastructure that work 24 hours a day collecting and analyzing system performance data and spotting network device outages. The virtual engineers work alongside human engineers to learn patterns in the network data and eventually act on their own to solve technical problems.
According to Wright, a network device outage typically would go to a queue and take human engineers about 3.5 hours to address. Using the virtual assistants, which the company nicknamed "co-bots," there is no queue and most incidents can be fixed within 10 minutes.
Wright added "If a machine can't solve a problem on its own, it is kicked back to a human engineer." That has significant implications for those responsible for software QA.
Will the Bots Take Away Jobs?
One concern is that automation will eliminate jobs and reduce headcount, something that may sound like a good idea to a cost-conscious CFO, but could be bad news for developers, and in turn, DevOps team members. However, Wright offers a different view: "Workplace automation is about enhancing productivity, not eliminating occupations. Machines can take on the burden of busy-work, such as QA testing and its various iterations, and free up developers to do the creative work they crave."
Historically, technological innovation has killed off some jobs and created others. However, McKinsey estimates that fewer than 5 percent of today's occupations are candidates for full automation, but nearly every occupation could be partially automated.
"With so much of the workplace still relying on manual tasks, machines can revitalize human work," added Wright. "
Wright claims that ServiceNow is working to deliver on that vision with its Intelligent Automation Engine. A product that applies machine learning and advanced analytics to four of the biggest challenges for IT organizations today. The engine helps companies to prevent outages, automatically categorize and route work, predict future performance and benchmark performance against peers.
IBM's Watson Enters the Picture
ServiceNow partnered with IBM to combine Watson's abilities with ServiceNow's intelligent automation to deliver greater efficiencies to their mutual customers.
According to Wright, the engine applies intelligent automation to customers' workflows that allow companies to replace manual tasks, both repetitive tasks and complex business processes, with automated workflows. "The volume of back and forth work across every department for common tasks like resetting of passwords or onboarding new employees is straining their systems," said Wright. "ServiceNow provides a way out. Trained with each customer's own data, our engine enables customers to realize game-changing economics."
Obviously, ServiceNow has skin in the automation game. Nevertheless, it's clear that enterprises have reached a tipping point and intelligent automation is the answer to keeping pace with runaway workloads. A simple fact that transformative IT Managers must embrace to ensure that IT remains relevant to business operations, while increasing service levels.