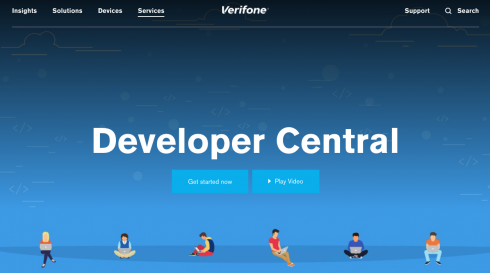 Verifone is going beyond payment solutions with Developer Central. Developer Central is the company's development platform where developers can build and deploy non-payment apps for Verifone's payment devices. The company showcased some of these applications at Money20/20 USA in an attempt to demonstrate how apps are helping merchants grow.
The apps that were showcased included Ecwid, vLoyalty by vPromos, GiftFly, Homebase, and iMobile3. Ecwid is an e-commerce platform that enables small businesses to sync their online store with their physical stores. vLoyalty by vPromos is a card-linked loyalty program solution. Giftfly is a solution that allows businesses to sell physical and digital gift cards to anyone at any time. Homebase is an employee management system that allows business to build better schedules and track hours from anywhere. And iMobile3 empowers merchants with state-of-the-art POS solutions that are custom-branded for their business with inventory management, staff administration and transaction reporting. According to Verifone, all of these apps vary in their purposes and they demonstrate just how many different types of apps developers can create on this platform.
Verifone's goal is to be able to help merchants transform their products and experiences into a 'destination' for customers. "People actually go to brick and mortar more than they used to in the millennial space," said Abizar Vakharia, vice president of global solutions for Verifone. "They also start to look for new experiences and actually spend more money at brick and mortar than previous generations. What they don't do is spend that money on utilitarian capabilities or things that they can buy online more effectively. When they go to the store, they start to expect a much deeper experience and a place that actually becomes a destination for them to go to."
Though the developers are not paid directly to create the apps, Verifone intends to package the apps and help developers sell them directly to recommended acquirers, according to Vakharia. "There are a bunch of developers that are cloud developers or category developers today that have great capabilities but they only have one or two platforms to work on," Vakharia told SD Times. "With Developer Central, all of a sudden they have a whole set of new devices that they can start to innovate on."
With Verifone's Developer Central platform, developers are able to create apps in 10 different categories: point of sale, labor management, accounting, inventory management, food delivery, omni-channel experiences, loyalty programs, alternative payment programs, finance programs, and marketing and BI programs.
Apps are developed using Android Studio, with a custom Commerce Applications SDK. There are some restrictions in place when developing to ensure security, such as preventing certain sockets to get opened when developing in JavaScript. All apps also have to go through a documented certification process when submitted. Depending on the type of app, it might have to go through additional testing to get certified.