More platforms, more devices, more fragmentation
Google generally releases one or two new Android versions every year. Going back through the dessert food alphabet, the platform started with Cupcake, Donut and Éclair in 2009. Those were followed by Froyo and Gingerbread in 2010, Honeycomb and Ice Cream Sandwich in 2011, Jelly Bean in 2012, KitKat in late 2013, and the newest release Android "L," a.k.a. Lollipop, in November 2014.
Lollipop—the most substantial update to Android in years—adds more than 5,000 new APIs, Google's next-gen Jack and Jill compilers, and overhauls the UI design with its new Material Design principles, among other features. Developers responded enthusiastically to the release, but months later the problem is a simple one: not enough devices are running it.
According to Google's latest platform statistics, as of March 2, Lollipop is only running on 3.3% of devices. KitKat, on the other hand, is running on 40.9% of devices, while three different incremental versions of Jelly Bean make up 42.6%.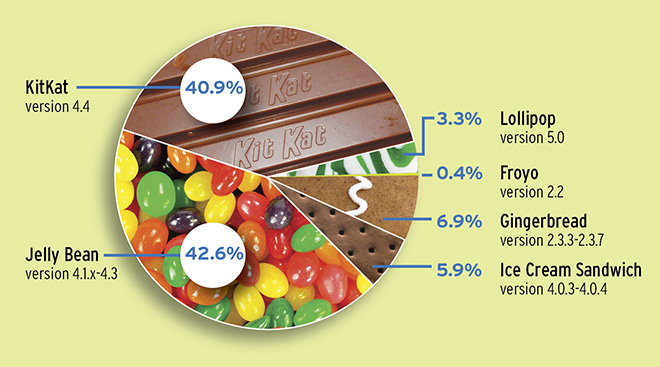 Michael Crump, senior developer advocate at Telerik parent company Progress, said that despite excitement over the features it offers, developers are thus far hesitant to begin developing apps for Lollipop.
"A lot of pain points for developers right now are centered around the latest version of Android, 5.0 or 5.1," he said. "There are very, very low adoption rates, and developers trying to target these latest versions don't have a lot of users at the moment. So a lot of developers aren't targeting that version specifically right now."
Android's history shows that Lollipop will catch up and users will ultimately adopt it, though. Crump explained how Progress is "future-proofing," or integrating 5.0 features into its existing Android tools ahead of wider adoption.
"When developers are there and the market is there, the new Material Design look and feel—the light and dark themes—will already be in Kendo UI," said Crump. "If you're building a hybrid app or another type of native app, when the market catches up, developers will already be able to implement what we've put in place."
Android fragmentation also presents challenges in testing any given app on the litany of devices with different screen sizes and specifications it may inhabit. Companies such as Twitter have completely overhauled their Android apps and development process with an "Android Brain" philosophy: faster, overlapping release cycles, and a stack of Android devices on each developer's desk to test changes.