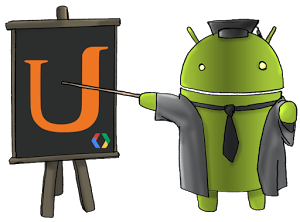 Google crash course for Android development
Google is offering an online training course for experienced developers new to Android or mobile. The course, Developing Android Apps: Android Fundamentals, will be available through Udacity and provides step-by-step training to building an Android app, and best practices for mobile development in general.
"With Android expanding rapidly into emerging markets, and growing beyond phones and tablets into wearables, auto and TV, learning the fundamentals behind Android development represents an opportunity to affect and improve the lives of billions of people," wrote Reto Meier, head of scalable developer advocacy at Google, on the Android developers blog. – Christina Mulligan
The NSA's National Centers of Academic Excellence in Cyber Operations Program
The agency known for its secretive surveillance strategies is trying to cultivate more U.S. cyber professionals through its National Centers of Academic Excellence in Cyber Operations Program. The NSA has chosen New York University, Towson University, the United States Military Academy, the University of Cincinnati and the University of New Orleans to provide the program for the 2014-2019 academic years.
"Cybersecurity technical skills are increasingly important in national defense, but it's equally important to operate within the bounds of the law and Constitution," said Steven LaFountain, the Dean of NSA's College of Cyber.
The program will provide technical, interdisciplinary education in computer science, computer engineering and electrical engineering, with opportunities for hands-on apps through labs and exercises. – Christina Mulligan
Red Hat announces Inktank Ceph Enterprise 1.2
Red Hat has added new features to its storage platform for OpenStack for managing data-intensive applications. Inktank Ceph Enterprise 1.2 allows users to define pools for storing data densely as well as caching pools that can deliver high performance.
"And, because these pools all work together, customers can now create the blend of price and performance that's right for them for both cold and hot data storage," said Neil Levine, director of product management for storage and Big Data at Red Hat.
Key features include erasure coding, cache tiering and an update to the Ceph management platform, Calamari, to support management functions. – Christina Mulligan
JFrog closes a US$7 million series B round of funding
The software build and distribution company JFrog has closed a US$7 million series B round, bringing its total backing to about US$12 million. The company said it will use the money to expand its research and development staff and to fund open-source activities.
JFrog provides end-to-end solutions from development to distribution through its products Artifactory and Bintray. – Christina Mulligan