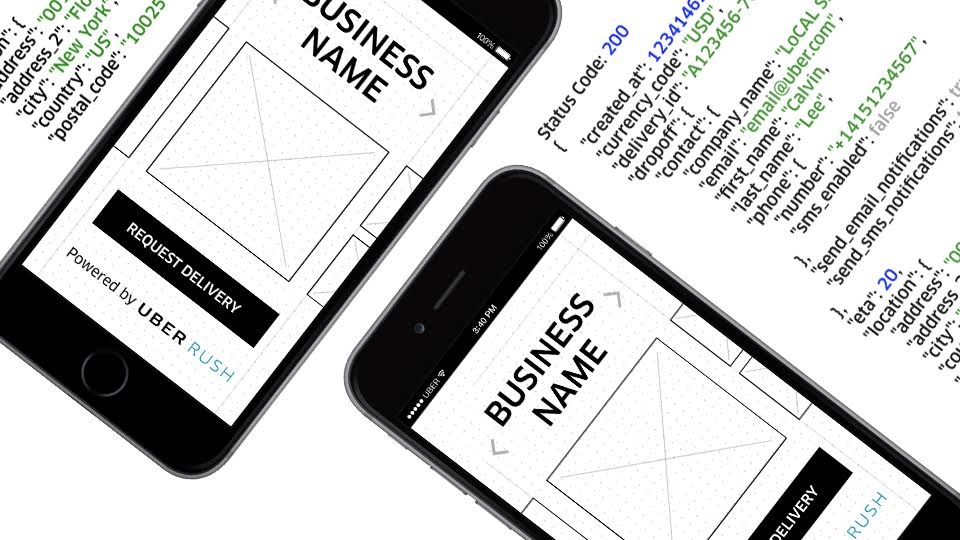 The UberRUSH API had been in private beta since January, and now it's officially open to the public.
The RUSH API is a solution for companies looking to build or streamline last-mile logistics. Anyone can build on-demand delivery right into an existing business, or create something on their own, according to a company announcement.
Some companies are already utilizing the RUSH API to enable expansion, give customers more options, and improve reliability. For example, with the RUSH API built into the app Pythagoras (an on-demand artisan pizza service), the team can tap into Uber's delivery network and reach new neighborhoods.
A dry cleaning service in Chicago used the API to create more options for its customers, allowing it to accommodate additional services without having to restructure its operation.
Uber is giving developers and businesses a chance to get together and show off their completed API integrations, and there will be a workshop in Chicago, New York and San Francisco the week of June 27.
Thomas J. Perkins, Silicon Valley venture capitalist, dies
Thomas J. Perkins, the man who helped grow companies like Amazon and Google, died in his home Tuesday night at age 84.
Perkins cofounded the venture capital firm Kleiner Perkins Caufield & Byers in 1972, and he and his partners put small amounts of money into startups, according to a report in The New York Times.
Perkins also helped recruit venture capitalists like John Doerr to his firm, which led to investments in companies like Amazon, AOL, Netscape, and later Google.
According to the Times, "His firm's success transformed Silicon Valley and the technology and biotechnology industries, leading to a proliferation of venture firms in the region and creating an ecosystem of investment in startups that today remains unrivaled in any other part of the world."
Mozilla announces the Secure Open Source Fund
Mozilla wants to help support open-source software with a new initiative designed to provide security auditing, remediation and verification for key projects. The company announced the Secure Open Source Fund as a part of its ongoing Open Source Support program. The Fund has been allocated US$500,000 in initial funding, and will focus on widely used libraries and programs.
"We hope this is only the beginning. We want to see the numerous companies and governments that use open source join us and provide additional financial support. We challenge these beneficiaries of open source to pay it forward and help secure the Internet," wrote Chris Riley, head of public policy for Mozilla, in a blog post.
Mozilla will tackle open-source security by paying security professions to audit projects, support and implement fixes, manage disclosure, and pay for remediation work to ensure bugs have been fixed.
Google launches Nearby on Android
Google is extending its Nearby APIs to provide users with the ability to discover and interact with new experiences. The company has announced Nearby on Android, a new proximity-based solution.
"Imagine pulling up a barcode scanner when you're at the store, or discovering an audio tour while you're exploring a museum—these are the sorts of experiences that Nearby can enable," wrote Akshay Kannan, product manager for Google, in a blog post.
By extending Nearby APIs, developers will be able to connect their solutions to a beacon in order to provide nearby experiences.
Nearby has already started to roll out, and will work on Android 4.4 and above devices.