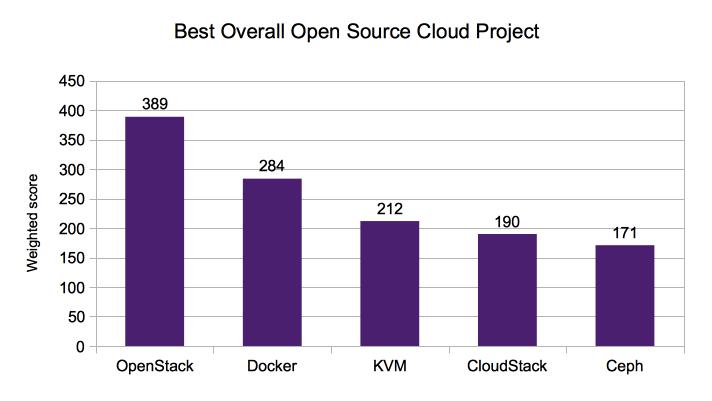 When it comes to open-source cloud projects, OpenStack is on top, according to a survey conducted by the Linux Foundation and analysis organization The New Stack. While the open-source software for building private and public clouds is only 4 years old, the results aren't too surprising. The project has received support from leading industry giants such as HP, IBM, Red Hat and VMware.
What's more surprising is that Docker, which is just over a year old, followed OpenStack, taking second place for best overall open-source cloud project.
(Related: OpenStack is becoming more cohesive)
"OpenStack had the most contributors weighing in on the survey and has been growing quickly," wrote Alex Williams, founder of the New Stack, on Linux.com. "Fewer respondents said they contribute to Docker, but it's the project everyone said they want to contribute to more."
Following OpenStack and Docker in the best overall category were KVM, CloudStack and Ceph.
Respondents were also asked to choose the best project in five different categories: Hypervisor/Container, Infrastructure-as-a-Service, Platform-as-a-Service, Configuration and Management Tools, and Storage.
In the Hypervisor and Container project category, KVM, Docker, Xen Project and CoreOS led the group. OpenShift and Cloud Foundry dominated the PaaS category; and OpenStack continued to led the projects in the IaaS category, with CloudStack, OpenNebula and Eucalyptus following.
Puppet, Ansible, Salt, Juju and Chef were among the top projects in provisioning and management tools. And Ceph, Gluster and Swift led the storage projects.