The championship game is in the books, and the winner of SD Times March Developer Madness is #4 seed Service Virtualization! After a tournament full of surprises, upsets and all eight top seeds going down, Service Virtualization cruised through the Final 4 with convincing wins over cinderella #8 seed NoSQL and #3 seed APIs in the finals.
The final tally of 219 championship votes was 75% in favor of Service Virtualization!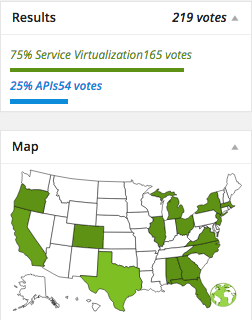 Click here to see a larger, more detailed version of the final SD Times March Developer Madness bracket, and how all the games and rounds shook out from beginning to end.
March Developer Madness was a fun way for us to gauge our readership's interest and fascination with all the established and emerging software development technologies out there, from languages and platforms to development philosophies and methodologies. Thank you to all our readers who participated, voted and engaged with us about the event via social media.
Did your favorite seed or preferred technology lose somewhere along the way? Let us know! Tell us what you're passionate about; what you want to read more about, whether in comments, emails or tweets. SD Times is always listening.