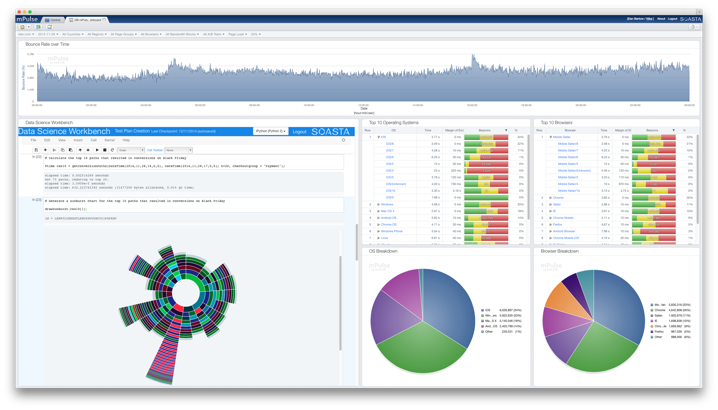 Until recently, SOASTA has been mainly focused on cloud testing solutions, but recent announcements from the company revealed a new direction. While SOASTA will continue to focus on its cloud-testing solutions, the company is working on making performance a more fundamental aspect to its portfolio.
"Cloud testing has always been about performance," said Brad Johnson, vice president of product marketing at SOASTA. "The subtle difference between pure 'load testing' and performance testing is the former is about driving synthetic user traffic, and performance testing is about measuring critical data during the effort. The problem and difference between the two is the focus on the effort and results. Too many companies and solutions emphasize the pre-work to drive the tests, when what business wants is fast results to understand where to make improvements to optimize performance for end users, revenue and brand protection."
The company announced the addition of a new analytics solution in order to provide actionable insight into complex performance and user experience data. The Data Science Workbench is designed to provide instant insights, spot trends and identify issues.
Features include the ability to prepare performance data for consumption, an interface to simplify data exploration, pre-developed functions and statistical models, and technical and support from SOASTA.
"With the SOASTA Data Science Workbench, users can quickly analyze meaningful business insights without mining and sifting through enormous amounts of performance-related data," said Tom Lounibos, CEO of SOASTA. "Our new solution will provide an even deeper understanding into their users' experience."
Continuing down its performance path, SOASTA also announced a new integration with its CloudTest product in order to provide a single performance-analysis solution. CloudTest now incorporates the company's Real User Monitoring (RUM) solution mPulse. With this combined offering, users will now be able to understand a customer's online experiences on the Web and on mobile devices, and to recognize the impact of real user experiences on an organization's transaction volumes, online revenue and conversations through actual user data, according to SOASTA.
"For any digital business owner, being able to view all their performance data in a single pane of glass and use it to make key business decisions is a game-changer," said Lounibos. "By aligning DevOps and business teams around real-time information from multiple sources, digital businesses can make their optimized user experience a competitive advantage, rather than taking a defensive approach when apps and websites stop performing to expected levels."