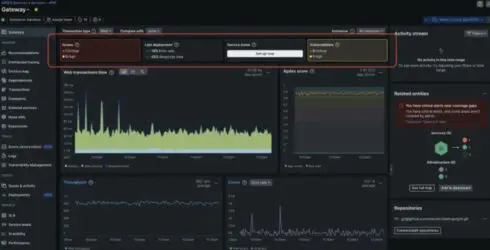 Application performance monitoring (APM) company New Relic has announced the release of New Relic APM 360, which is a new comprehensive monitoring tool that helps developers understand the upstream and downstream impacts of issues, discover emerging trends, and prevent issues. 
According to the company, traditional APM tools often have to deal with siloed data, no context for issues, and blind spots. This solution overcomes all of those challenges and offers a unified view of telemetry data across the organization.
It provides insights on critical health indicators, such as issues, deployments, service levels, and vulnerabilities. These insights are all displayed on one screen to eliminate context switching. 
It also correlates infrastructure insights, error user impact, log patterns, and distributed tracing with the golden signals of monitoring (latency, traffic, errors, and saturation). This makes it easier to troubleshoot issues, as it eliminates a lot of guesswork. 
New Relic APM 360 also makes it easy to identify under provisioned resources that may be impacting services. 
It also offers a unified view for distributed traces, which provide insights into how complex distributed systems are behaving. Developers can quickly navigate to a specific trace in just a few clicks and gain understanding of the root cause of issues. 
In addition, APM 360 shows error user impact as well as error rate. This allows developers to identify and prioritize the issues that would have the greatest impact on users. 
Other features of APM 360 include contextualized log patterns and guided workflows and data recommendations. 
"New Relic APM 360 is not just about monitoring— it's about enabling all engineers, regardless of expertise level, to excel at using APM tools. By providing a holistic view of service health and key application indicators, APM 360 will equip you with the insights you need to ensure your application's performance and health, prevent issues, and make a real impact on your business outcomes," Lavanya Chockalingam, principal product marketing manager at New Relic, wrote in a blog post.