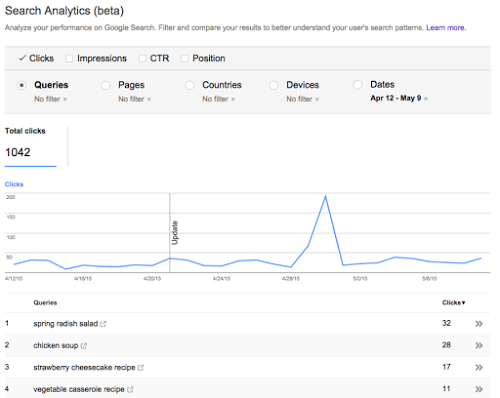 Google is giving developers a new understanding of how their applications are treated in search results. The company announced new reports in its Search Console that will show which app pages gain the most traction, and which ones have errors.
"Our goal is to make Search Console a comprehensive source of information for everyone who cares about search, regardless of the format of their content," wrote Hillel Maoz, engineering lead of Google's Search Console team, and Mariya Moeva, webmaster trends analyst at Google, in a blog post. "So, if you own or develop an app, Search Console is your new go-to place for search stats."
(Related: Google gets realistic about Dart)
The reports will provide information on top queries, top app pages and traffic by country. In addition, a set of filters will be available to allow users to narrow down their reports to specific queries, regions, clicks, impressions, click-through rate and positions, according to Google. Any errors detected will show up in the Crawl Errors reports, which will provide the type and number of errors detected.
"Use the Search Analytics report to compare which app content you consider most important with the content that actually shows up in search and gets the most clicks," wrote Maoz and Moeva. "If they match, you're on the right track! Your users are finding and liking what you want them to see. If there's little overlap, you may need to restructure your navigation, or make the most important content easier to find."
To get access to the reports, developers have to add their app to the Search Console and connect their site to their app. The data will only be available to authorized app owners.