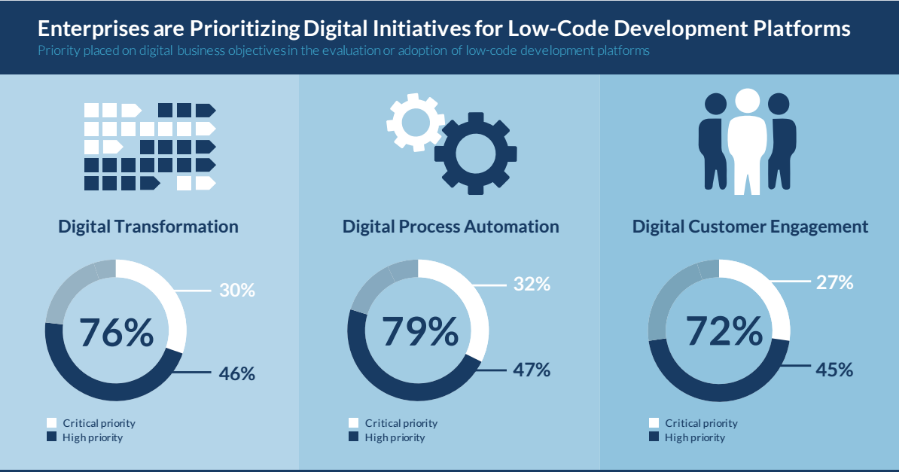 In order to compete with rapidly transforming markets, IT leaders are leveraging low-code platforms to support digital process automation, digital customer engagement and digital transformation, according to an Appian survey released today.
"Forrester predicts the low-code platforms market will reach over $10B in revenue by 2019," said Matt Calkins, CEO of Appian. Appian also provides a low-code platform for building enterprise grade applications. 
Enterprises are looking to better engage with their customers and as a result, they are turning to robust platforms to enhance application development and delivery. In the survey, high costs and meeting business requirements made the list of top challenges faced using traditional coding techniques. Other challenges cited include keeping up with business demands for new functionality and taking advantage of new technologies.
Data from the survey confirms that enterprises saw significant improvement when switching to low-code platforms, including speed to deliver process innovation and improvements (89 percent of respondents) and faster application updates (87 percent of respondents). Eighty-six percent of respondents said meeting business requirements on time was another major improvement of low-code platforms.
This type of development is a critical component of the efforts at Options Clearing Corporation, an equity derivatives clearing company. According to its vice president of process innovation, Denise Knabjian, low-code development is needed to enhance the effectiveness and efficiency of the OCC's risk management processes.
"This approach to enterprise development is allowing us to rapidly deploy nearly a dozen mission-critical applications that have modernized our operations while simultaneously reducing risk and increasing control demonstrability," said Knabjian.
The Appian/Forrester survey also revealed low-code implementation success "hinges" on strategic alignment. It's about having the right skills in place to build applications, and having the ability to evolve the platform and continuously innovate, according to the survey.