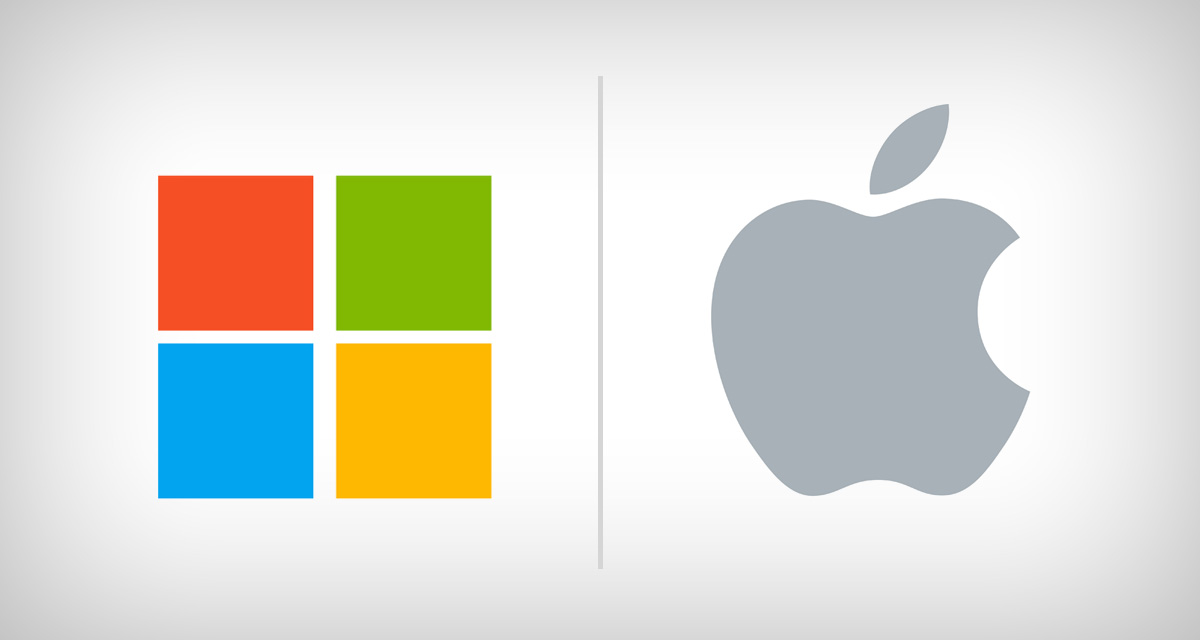 Apple and Microsoft both have reported earnings from their latest financial quarters.
Apple posted quarterly revenue of US$49.6 billion, with a profit of $10.7 billion, growing its revenue by 33% year-over-year. Microsoft reported revenue of $22.2 billion, but with a net loss of $3.2 billion due to the $7.5 billion accounting charge stemming from the company's 2013 acquisition of Nokia's devices and services business.
All eyes on Windows 10 for Microsoft
Microsoft's quarter broke down into a 13% decline in Devices and Consumer revenue, including a 22% Windows OEM decrease post-Windows XP end of support. Surface revenue, on the other hand, grew 117% due to Surface 3 and Surface Pro 3 sales, and Xbox revenue grew 27%.
On the services side, Microsoft's commercial cloud revenue—made up of services including Azure, Dynamics CRM Online and Office 365—grew by 88%. Daniel Ives, financial analyst at FBR Capital Markets, called the quarter "respectable" despite the massive Nokia write-down, though FBR's "outperform" recommendation hinges on the launch of Windows 10 in addition to the continued success of "core products" such as Azure and Office 365.
"While we characterize the June performance as 'good enough' in the face of a challenging PC environment, ultimately all investor eyes will be on the July 29 launch of Windows 10 as Mr. Nadella and co. look to make the transformational cloud transition with Windows in the hopes of reinvigorating growth in the core business and achieving similar success to the Office franchise transition," said Ives. "We continue to believe Microsoft's core cloud products and scalable global architecture represent key differentiating factors that will continue to attract an increasing number of subscribers as enterprises evaluate/embrace cloud providers over the coming quarters/years, while restructuring efforts are clearly making it a 'leaner and meaner' technology giant.
"Overall, we believe F4Q15 results/F1Q16 guidance speaks to a company in a state of transition, but ultimately headed in the right direction as the real focus turns to Microsoft's upcoming potentially massive product cycle."
Apple's "modest" gains fall short of market expectations
Despite 33% revenue growth and a record stash of $202 billion in cash on hand, FBR's Ives said Apple's numbers modestly beat expectations but were not as "bullish" as Wall Street was hoping for. The company's 59% iPhone revenue gain over last year, along with growth in China, were promising and indicate huge future growth, but Ives said iPhone units themselves missed expectations at 47.5 million sold against 49 million.
"As Apple has become the 'gold standard' of technology, it is held to a higher standard; thus, investors will be disappointed this morning by a good, but not great, iPhone shipment number during the June quarter, coupled with a conservative September forecast," said Ives. "While China impressively grew 100+% and remains the main fuel in the company's engine, now Apple becomes a bit of a 'prove me' stock, as the Street needs to feel comfortable that the iPhone 6/6 Plus growth story is alive and well.
"Another noisy issue around the Apple story is the lack of transparency around Apple Watch sales in its first quarter on the market, as distribution issues and component issues have slowed some of the momentum out of the gates."