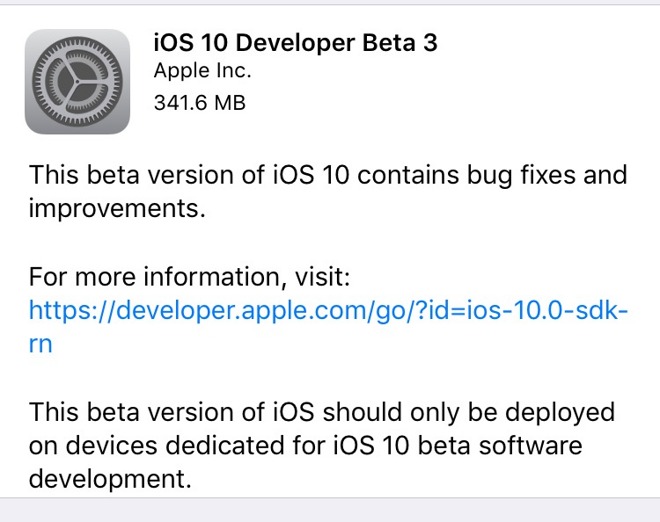 Developers can explore the third pre-release betas of three of Apple's four future platform updates, including iOS 10, tvOS 10 and watchOS 3.
Developers who sign up for the Apple developer program can download the beta 3 builds, as well as the Xcode beta. Developers are provided with release notes that include platform updates, bug fixes and other issues that were addressed.
iOS 10, macOS Sierra, tvOS 10 and watchOS 3 are scheduled for the general public this fall, and individuals can opt in to test pre-release versions of iOS 10 and macOS Sierra as long as they go through Apple's public beta program, according to Apple Insider.
Apple advised anyone who downloads the betas should deploy on devices dedicated to software development.
Opera sells for less than $1 billion
After Opera Software fell 17% from its sale to a Chinese consortium, it has decided to sell its browser business for US$600 million, according to reports from Bloomberg.
The business for mobile devices, desktops, and technology licensing will be sold and led by private equity firm Golden Brick Capital Management, according to Bloomberg. Opera will keep its business in applications and games.
The partial sale will provide the buyer with assets from Opera, including the browsers that allow users to surf the web faster. The company still has potential for growth, and its projected sales in those units will increase by 30% this year, according to Bloomberg.
Qt WebBrowser hits 1.0
Qt recently open-sourced Qt WebBrowser for embedded devices that are developed using Qt and QtWebEngine.
Qt WebBrowser allows users to search for text, bookmark pages, navigate page history, and open multiple pages at the same time. Additionally, full-screen video and audio playback should work, and private browser mode deletes a user's browsing history, downloads window and more after they close the browser.
The browser is able to run on Linux, and it is optimized for touch displays. Users will requure QtWebEngine, Qt Quick, and Qt Virtual Keyboard installed, as well as hardware-accelerated OpenGL and around 1GB of memory for the whole system.
Also, Qt is releasing the Qt for Device Creation demo under GPLv3 and commercial licenses, and the browser serves as a demo for Qt and QtWebEngine. Developers and users can find more documentation here.