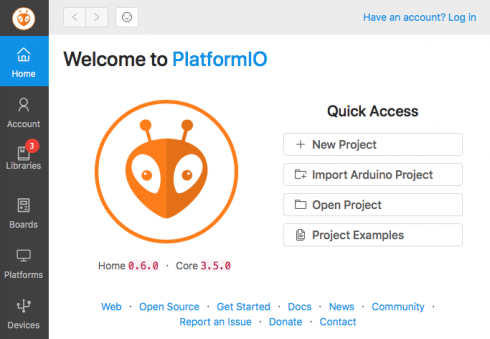 PlatformIO Core 3.5.0 has been released. PlatformIO is an open source ecosystem of Internet of Things development. New features include a new GUI called PlatformIO Home, integration with Jenkins CI, a new include folder for project's header files, and the ability to handle missed dependencies and provide a solution based on the PlatformIO Library Registry. A more detailed set of new features can be found here.
The upcoming Babel 7.0 release
As the 7.0 release of the JavaScript compiler approaches, the Babel team has made some changes to prepare. It added a new video page that features conferences talks about Babel. It also added a new team page that will be updated to include information about what each team member is working on as well as a new upgrade tool.
The team also listed a few way the community can help with the release. Helping maintain the project by developing for it is a good way to start, according to the team. The team is also looking for funding to support more full-time workers.
Blockchain Foundry closes $3.3 million private placement financing
Blockchain Foundry has announced it has closed its first non-brokered private placement of 12,222,222 common shares, each at a price of $0.27. The gross proceeds were $3,300,000. It will be using these earnings to scale its software development team, hire more business development staff, and accelerate the development of its software products. The company also intends to go public in Q1 2018 if it meets the requirements of the Canadian stock exchange.
"We are at an exciting time in the evolution of our company," said Dan Wasyluk, president and CEO of Blockchain Foundry. "This financing round lets us accelerate our development timetable and pipeline and gives us the resources to build Blockchain Foundry into a leading provider of innovative blockchain products and services."
Apple apologizes for slowing down iPhones with old batteries
Apple has been under fire lately for reportedly slowing down iPhones with older batteries. The company release a statement apologizing and explained that the batteries degrade over time due to their chemical makeup. It claims that last year it released a software update that would manage the maximum performance of system components in order to prevent unexpected shutdowns caused by this.
As a result of the performance issues associated with older batteries, Apple is reducing the price of replacement batteries by $50. Once the battery is replaced, the performance should return to normal. The company will also issue a software update early next year that will give users more visibility into the health of their batteries.