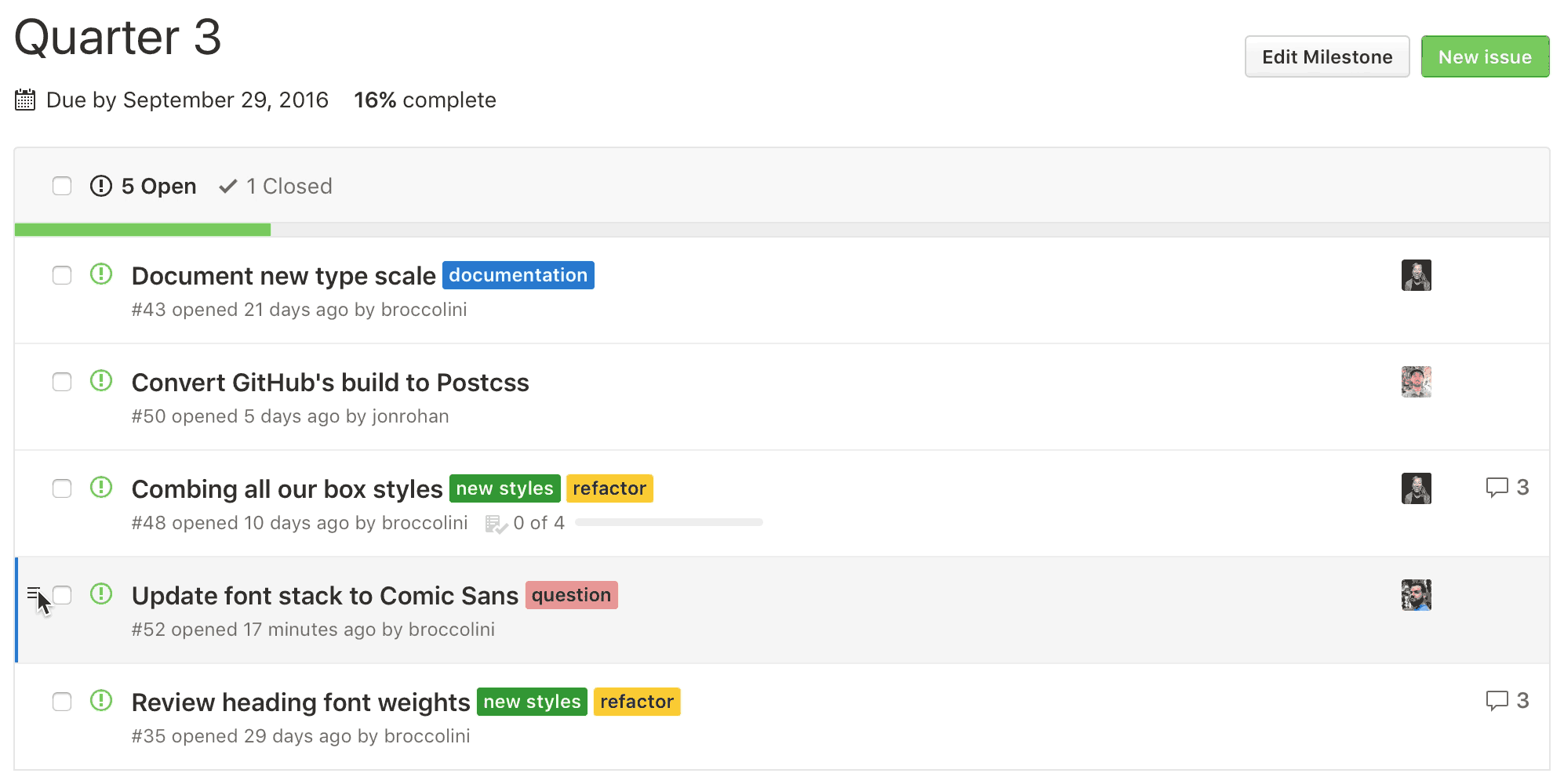 At GitHub, developers can now reorder issues and pull requests, and indicate priority by moving them higher or lower down their list. For developers, this is an easy way to indicate which milestones or labels in GitHub a teammate should focus on first.
After a developer has grouped issues and pull requests within a milestone, they can drag and drop to place them in whatever order is best. Keyboard commands will also work to move items up and down the list.
Developers can learn more about milestones and how they associate with issues and pull requests here.
SUSE joins Microsoft Enterprise Cloud Alliance
SUSE has joined the Microsoft Enterprise Cloud Alliance as a way to continue to deliver cloud-based products and help customers respond to business needs. SUSE is also part of the Microsoft Test Drive Program, so customers can evaluate SUSE Linux Enterprise Server for High Performance Computing from the Azure Marketplace for free.
By joining the alliance, SUSE can continue to expand access to security and reliability of its Linux solutions.
"With SUSE's integration into the Enterprise Cloud Alliance, organizations have improved access to the reliability and security of SUSE Linux Enterprise Server—including unique workloads such as SUSE Linux Enterprise Server for High Performance Computing—on the Azure cloud," said Naji Almahmoud, vice president of cloud and software alliances for SUSE. "SUSE's growth on Azure means more options for customers. It is yet another indicator of SUSE's commitment to helping enterprise customers be successful."
Twistlock announces US$10 million series A round
Twistlock announced it has finished a US$10 million round of funding led by TenEleven Ventures. Twistlock also had support from a new investor, Rally Ventures, and existing backer YL Ventures.
Twistlock has seen growth over the years, partially because of its approach to embedding security in the early stages of container lifecycles. Its technology includes Twistlock Trust, a set of tools that manages the container vulnerabilities. It also includes Twistlock Runtime, which gives customers behavior analytics of containerized applications and defends applications against production threats.
Twistlock also announced that the New York-based company InVision chose Twistlock to secure its own container environments. Additionally, Twistlock said that the founder of TenEleven Ventures, Alex Doll, has joined the Twistlock board of directors. He has a background in security and is on the board of cybersecurity companies like CounterTack, Cylance and Ping Identity.
Twistlock started, it has claimed Fortune 50 firms, enterprises and startups in its customer base, according to a company announcement.
Wearable devices can give away PINs
Despite how fashionable and functional smartwatches are, cyber security expert Yan Wang and his colleagues discovered that these devices "know too much," and users need to be cautious of hackers stealing their private information.
According to research that Wang and his colleagues presented in June at the Association for Computing Machinery Asia Conference on Computer and Communications Security in Xi'an, China, wearable devices can give away a PIN number. The team was able to crack private ATM PINs with 80% accuracy on their first try, and more than 90% accuracy after three tries, according to the researchers' abstract.
Wang said that to eliminate this security breach, the wearable manufacturers should secure the data or add noise so it's to easy to translate into physical hand movements. In the meantime, he suggested users move their hand randomly between key clicks when entering a PIN number.