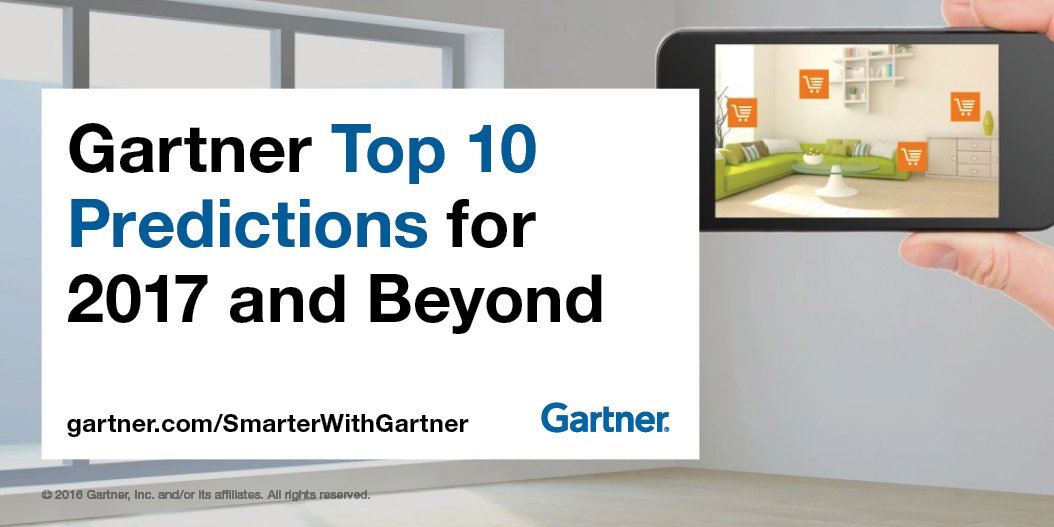 Digital transformation is upon us, and Gartner believes it will continue to fuel our future and the future of businesses. The organization announced its top predictions for IT organizations and users going forward, as well as the five domains a digital platform should cover at its Gartner Symposium/ITxpo 2016 in Orlando.
According to Gartner, the predictions are based on three "fundamentals" of digital innovation: experience and engagement, business innovation, and the secondary effects that will come from that innovation.
(Related: AllSeen Alliance merges with Open Connectivity Foundation)
"These predictions help our clients understand not only the radical changes they face in the digital world, but also the outcomes that will reshape the very ways in which we value what we do and the nature of future IT investments," the organization wrote in a report.
By 2019, Gartner believes:
Twenty percent of brands will abandon mobile solutions in favor of new approaches that provide a low barrier to discover and installation, and offer better engagement.
Every US$1 the enterprise spends on innovation will require another $7 to execute.
By 2020:
More than 100 million consumers will shop in augmented reality solutions.
Thirty percent of web browsing will be conducted without a screen.
Algorithms will alter the behavior of workers globally, and help them "remember" anything or stay informed.
The Internet of Things will be able to scale without being unmanageable from a storage infrastructure standpoint.
Forty percent of employees will be able to reduce their healthcare costs with the use of a wearable fitness tracker
By 2021:
Twenty percent of all online activities will include at least one of the seven digital giants: Alibaba, Amazon, Apple, Baidu, Facebook, Google and Tencent.
By 2022:
Blockchain technology is the next transaction recording revolution, and a blockchain-based business will be worth $10 billion
IoT will save users and businesses $1 trillion a year in maintenance, services and consumables.
"Gartner's top strategic predictions continue to offer a provocative look at what might happen in some of the most critical areas of technology evolution," said Daryl Plummer, managing vice president, chief of research and Gartner fellow. "At the core of future outcomes is the notion of digital disruption, which has moved from an infrequent inconvenience to a consistent stream of change that is redefining markets and entire industries.
"Last year, we said digital changes were coming fast. This year the acceleration continues, and may cause secondary effects that have wide-ranging impact on people and technology."
For the digital platform, Gartner believes it will require the enterprise to reshape and rebuild businesses, and will require what the organization calls the "civilization infrastructure."
"Civilization infrastructure will forever change the way people engage socially, digitally and physically through connected sensors and digital intelligence," said Peter Sondergaard, senior vice president and global head of research for Gartner.
According to him, the platform will go beyond traditional IT with the help of new technologies, and they will change the way people live. "Your new digital platform will allow you to participate in the evolving world of business, government and consumer ecosystems, because ecosystems are the next evolution for digital. It's how you compete at scale," he said.
In order to do that, the platform must consist of: 1) traditional IT systems; 2) customer experience; 3) Internet of Things; 4) intelligence; and 5) the ecosystem foundation. "Each of these domains are interconnected and interdependent. All have a role, and all are required," Sondergaard said.