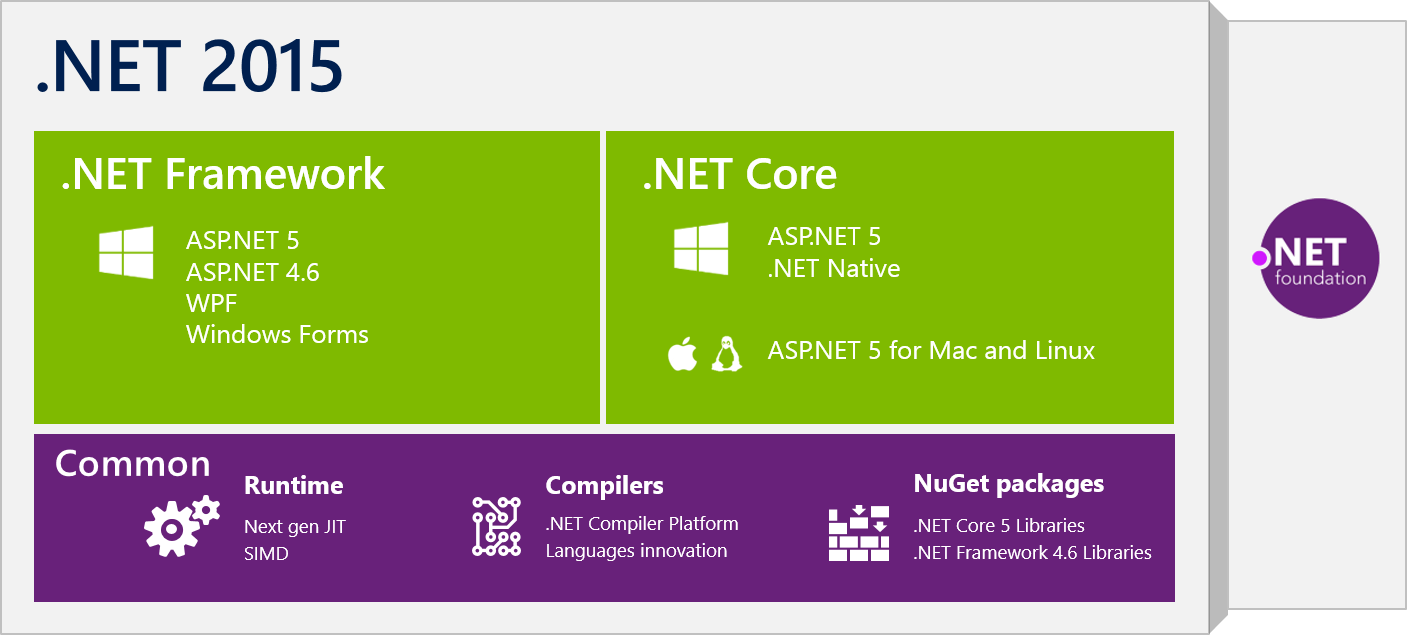 Microsoft has laid out plans for the open-source release of .NET Core, and how it fits into .NET 2015 and the company's overall strategy.
.NET Framework program manager Immo Landwerth explained the strategy in a blog post, giving an overview of .NET Core, how it will be released open-source and what role .NET Core will play in both .NET 2015 and Microsoft's overall cross-platform and open-source development plans. According to Landwerth, .NET 2015 will be a unified implementation of .NET Native and ASP.NET, combining the two under a common JIT runtime, the .NET Compiler Platform and NuGet packages.
.NET Core is comprised of the Windows Store App Model and ASP.NET 5 App Model on top of a unified base class library and runtime adaption layer, with a .NET Native runtime and CoreCLR security model at its base. Landwerth stated that .NET Core will see agile releases and faster upgrades to keep them enterprise-ready, and will serve as the foundation of Microsoft's open-source and cross-platform efforts.
"The .NET Core platform is a new .NET stack that is optimized for open-source development and agile delivery on NuGet," he wrote. "We're working with the Mono community to make it great on Windows, Linux and Mac, and Microsoft will support it on all three platforms."
IBM Watson Analytics goes into beta
IBM has announced that its predictive and visual analytics tools for businesses is now available in beta. Watson Analytics automates data preparation, predictive analytics and visual story telling.
It is available as a cloud-based freemium service, and can be accessed from any desktop of mobile device.
In addition, IBM also announced the Watson Analytics Community to share news, best practices, technical support and training.
More information is available here.
Sony Hack worse than previously thought
The Sony hack attack that occurred last month now threatens to destroy data instead of just stealing data, according to Bloomberg. Bloomberg reports the attack used a wiper virus that not only erases data but also could bring down networks and prevent companies from operating.
The Sony attack resulted in hackers gaining access to private employee information such as executive salaries, and put unreleased films such as "Annie," scheduled to be released on Dec. 19, on file-sharing websites.
The full story can be found here.
HP launches new products, converged systems and Big Data services
HP has unveiled new server, storage and converged systems products including HP Integrity Superdome X, HP Integrity NonStop X and HP Haven OnDemand enterprise Big Data service at the HP Discover Barcelona conference.
HP Haven OnDemand gives organizations of all sizes cloud-based access to HP's analytics platform. The HP Superdome X and NonStop X scalable servers two of many new product releases, including a new converged flash array, HP StoreServ Management Console, HP 3PAR File Persona Software Suite, HP StoreOnce Recovery Manager Central for VMware, HP OneView, HP Helion CloudSystem CS200-Hyper-Converged StoreVirtual, HP ConvergedSystem 700, HP Datacenter Care, and HP Consulting for Software-defined Infrastructure.
More information is available here.