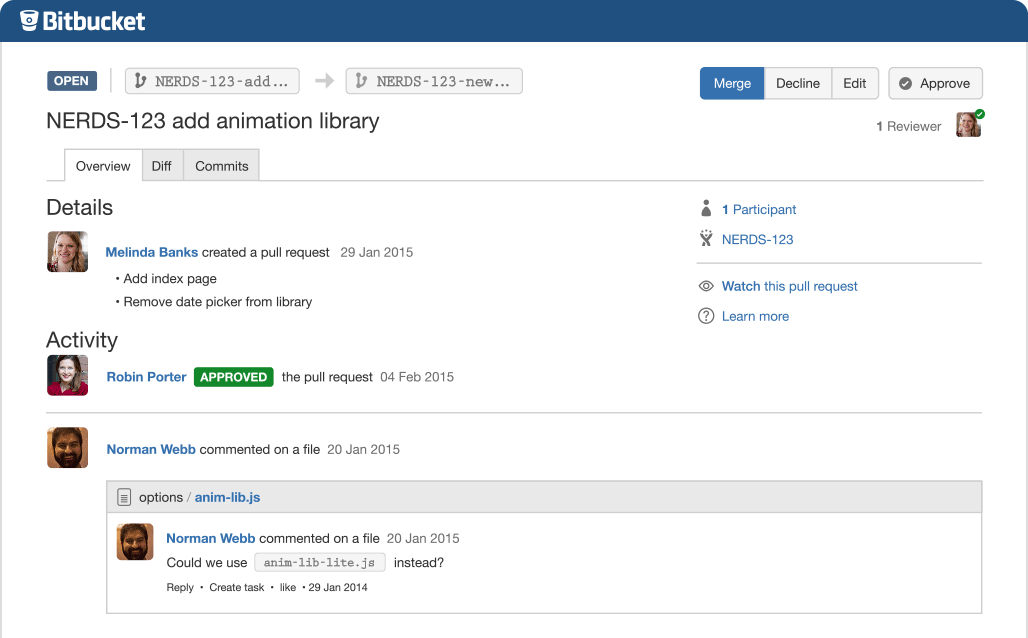 Typically, this time of year is when Atlassian hosts its developer and user summit in San Francisco. Those dates were pushed back a few months due to scheduling issues, but that didn't stop Atlassian from releasing road-map information for Bitbucket, as well as new customer information about the platform and product.
Eric Wittman, vice president of developer tools at Atlassian, said that Bitbucket is the company's fastest-growing product line, and is now used inside one out of every three Fortune 500 companies. He added that the customer base for Bitbucket has increased by 80% year over year.
(Related: Previously on Bitbucket news)
"Because we are so focused on the enterprise, there are certain capabilities we are going to be rolling out in the course of the next couple weeks and months," said Wittman. "Earlier this year, we rolled out our [Bitbucket] Datacenter product, with support for active/active clustering. You don't want your SCM to go down. The next set of things we're going to solve is around distributed teams."
To that end, the Bitbucket Datacenter product will be adding support for mirroring soon. This will allow distributed teams around the world to replicate the central SCM tree and keep a local copy on hand to increase their performance.
Before the end of the year, said Wittman, Bitbucket will hopefully support large files as well. "People in media gaming or ad agencies, who are often dealing a lot with large files, need this," he said. "Git Large File Support [LFS] is an open-source project announced in June. We are going to be contributing to that project. We actually had our own internal product going before LFS was introduced. It's being integrated into the Bitbucket Server product now."
The final major functional change planned for Bitbucket is aimed at the hosted Bitbucket offering. Atlassian had previously added support for handling multiple repositories under a single project to the on-premise versions of Bitbucket: Bitbucket Datacenter and Bitbucket Server (which was until recently known as Stash).
And now Stash has been renamed to Bitbucket Server as of this morning. Sometime in October, all three Bitbucket platforms will have support for managing multiple projects in a single repository with access controls. "We'll have this new construct called a project, and within that project you can have all the various repositories that relate to that project. The users can have access to these areas and not others," said Wittman.
Atlassian's developer summit has been moved back to Nov. 3-5 in San Francisco.