Zephyr is bringing more control, customization and usability to developers. The company announced a new quality management platform that enables test management and automation, as well as provides a rich set of analytics. The platform is built on a microservices architecture, and is powered by HTML5/Angular JS 2 for a user friendly experience.
"Zephyr's goal and vision for our powerful open platform is to play an integral part in end-to-end software development lifecycle and allow enterprises to release high-quality software on time and within budget, while enabling automation in each step of the testing process," says CEO, Scott Johnson.  "We want to support our customers DevOps journey by providing extensive integration capabilities and intelligent analytics."
The platform features a extensible set of REST APIs, SSO and LDAP capabilities, ZBot agents to run CI and CD frameworks and an analytics engine for insights into quality metrics.
Red Hat's latest version of OpenShift Container Platform
Red Hat is bringing Kubernetes to new app workloads in the release of Red Hat OpenShift Container Platform 3.5. OpenShift is the company's enterprise-grade, Kubernetes-native container app platform. It features expanded app support, improved platform security and new capabilities include: StatefulSets, cloud-native Jaa, and support for the company's Software Collections solution.
In addition, it features container security specific features such as enhanced certificate management and improved secrets management.
"While containerized applications and associated infrastructure present a vision of enterprise IT's future, traditional applications still function as the workhorse for modern businesses and should not be left behind as enterprises add next-generation services to their technology mix. Red Hat OpenShift Container Platform 3.5 provides a Kubernetes-based platform for traditional and cloud-native applications with the tools, greater security features and capabilities designed to retain existing IT investments while planning for future needs and business growth," said Ashesh Badani, vice president and general manager, of OpenShift at Red Hat.
Atlassian updates Bitbucket Cloud's user experience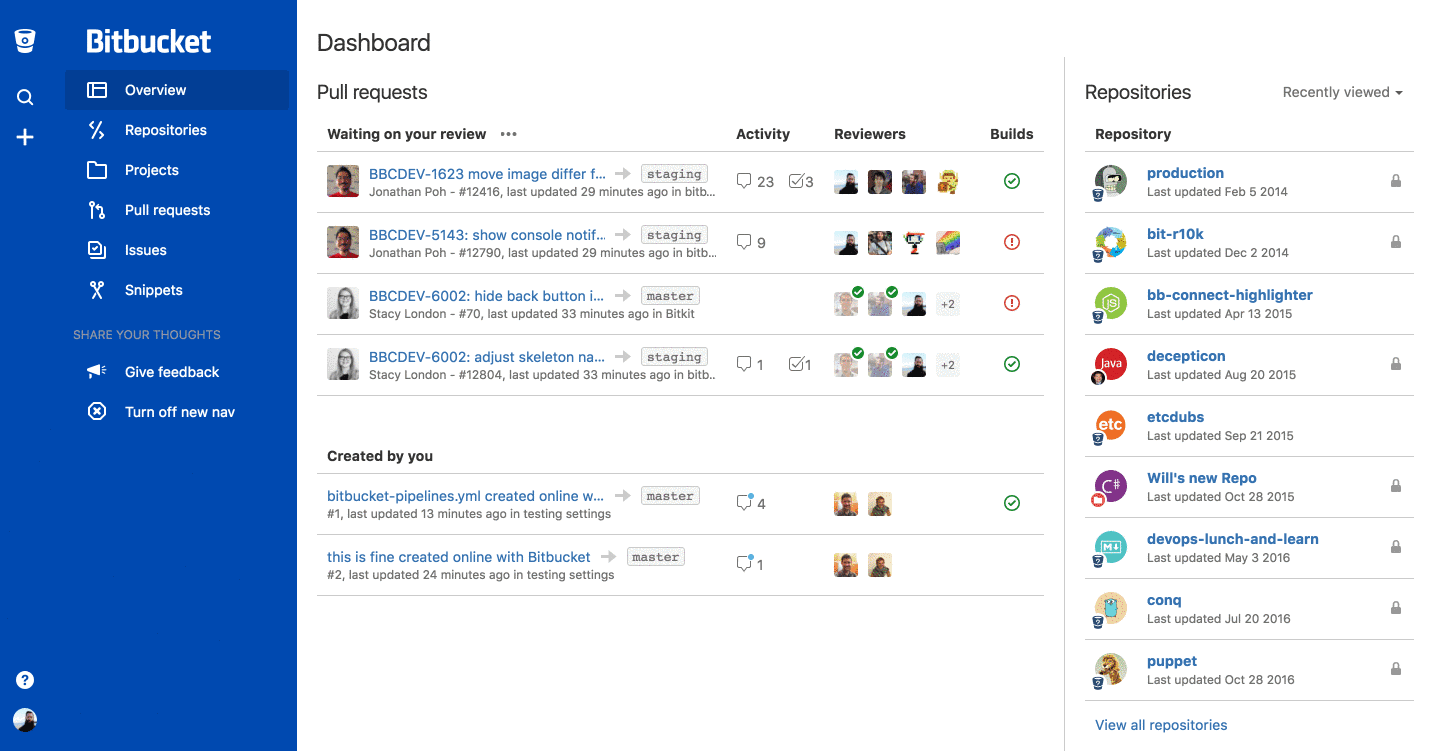 Atlassian wants to improve Bitbucket Cloud's UI with a new navigation experience. Bitbucket Cloud is the company's Git solution for professional development teams. The new navigation experience is designed to make the solution more intuitive and inviting.
"A good user interface gets out of the way and makes it easy for teams to understand, focus on, and complete their work. We've been listening to our users on how to improve the navigation of Bitbucket Cloud's UI and have been hard at work for over a year to address the feedback," Liam Greig, lead UX designer at Atlassian, wrote in a post.
The new navigation experience features improvements to its wayfinding, architecture, look and feel, and repository navigation.  
Tasktop raises $11.3 million
Software lifecycle integration provide has announced a $11.3 million round of funding led by AVX Partners. According to the company, it will use the round of funding to improve its development, marketing and sales of the Tasktop Integration Hub. The hub was recently launched to provide teams with visibility into large scale agile and DevOps transformations.
"We're excited to have received this continued vote of confidence from AVX Partners, Austin Ventures and Yaletown Partners. This round will enable us to speed up our efforts to meet the needs of development organizations struggling to realize the business-critical benefits of their enterprise Agile and DevOps initiatives," said Neelan Choksi, COO and president of Tasktop.