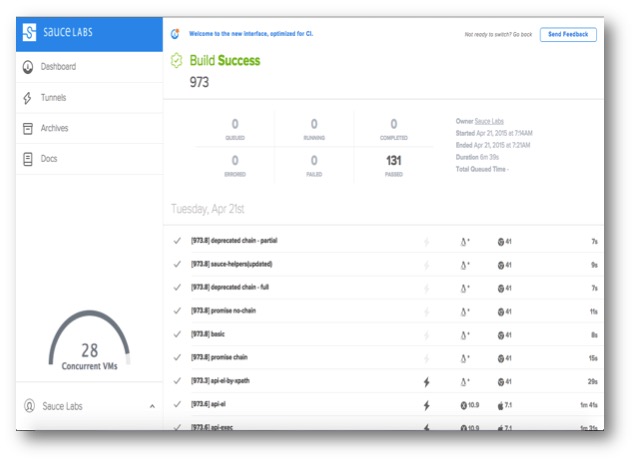 Sauce Labs wants to help organizations build better software, faster. The company announced an update to its platform designed to accelerate automated testing for Continuous Integration (CI) workflows.
According to the company, while CI and Continuous Delivery methodologies have proven useful in speeding up the software delivery life cycle, it isn't easy to implement critical testing components such as functional and unit testing. The latest update to the Sauce Labs service aims to help developers test Web and mobile apps faster, and provide better insights into their builds.
(Related: Testing in modern times stands alone)
"Sauce Labs continues to provide the most robust cloud-based automated testing platform in the market," said Charles Ramsey, CEO of Sauce Labs. "The future of testing continues to be delivered through modern techniques, such as Continuous Integration and Continuous Delivery. These methods require frequent, rapid and reliable testing—a need fulfilled by Sauce. With today's announcement, development teams can release better software at a faster pace than ever before."
Updates include:
A new dashboard designed to provide detailed information on builds, automated tests, manual tests and overage usage
Updated tests and tunnels pages to help discover issues and monitor accessible tunnels
Team management and user details to manage permissions and access to testing resources, and provide reports on usage
The archives page has been enhanced to provide a searchable archive page and view account activity over time
Support for single sign-on to provision new user accounts on the fly without administrator or IT intervention
"Sauce Labs has been an integral part of BoomTown's testing framework over the past year," said Brian Baumgartner, quality assurance manager of BoomTown, a customer of Sauce Labs. "With this latest product release, Sauce Labs not only adds more value to our automation workflow by optimizing Continuous Integration and delivery processes, they help BoomTown continue to release high-quality software solutions to the real estate industry."
More information is available here.