Twitter's first mobile developer conference
Twitter has announced a new developer conference with a focus on mobile. Twitter Flight will take place on Oct. 22 at the Bill Graham Civic Auditorium in San Francisco, and will feature a keynote from CEO Dick Costolo as well as a series of technical sessions.
"Flight is a gathering built by developers, for developers," the company wrote on its blog. "You'll be right at home if you live, breathe and occasionally dream in Java, Objective-C or Swift."
In addition to the conference, the company also rolled out a new developer site.
"This is an extraordinary time to be an app developer," the company wrote. "Our mission is to provide you with the tools you need to build great apps—and great businesses."
Code.org announces Code Studio
Code.org's mission has always been to help students learn how to code by providing curricula nationwide, and today it continued that mission with the launch of Code Studio. Code Studio is an open-source learning platform designed to teach students, starting as early as kindergarten, the basics of computer science.
"Code Studio enables even our youngest students to learn to build a basic animation or app in elementary school, and then share it to a friend's phone within minutes," Code.org wrote in its blog.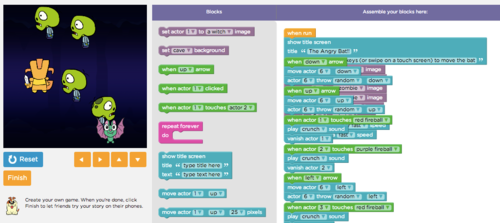 Code Studio will feature Play Lab, a place where elementary-school students can design and deploy apps or animations directly to a cell phone, as well as tutorials that go over programming topics. Teachers will get a free, one-day professional development workshop to help integrate Code Studio into their classrooms.
More information is available here.
How Google's self-driving cars have passed the Nevada DMV's self-driving test
Google's experimental self-driving cars have come a long way since the company started developing them in 2009. Since then, they have driven more than 1 million km and passed the first U.S. state self-driving test, according to IEEE Spectrum, which obtained the driving log for the test. According to IEEE Spectrum, the test was given by the Nevada DMV, and Google decided on the test route and set the limits on the road and weather conditions for the vehicle to encounter.
"It will be hard to anticipate if the proposed demonstration will encounter several important environmental conditions: rain, snow/ice, fog, and heavy crosswinds. Additionally, the vehicles currently do not operate in snow, ice or dense fog," Google wrote in the documents obtained by IEEE Spectrum.
Google's self-driving Toyota Prius passed the test almost immediately, according to IEEE Spectrum.
More information is available here.