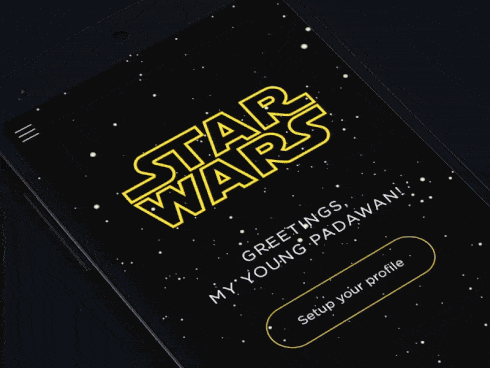 The Force is strong with this GitHub project. It is no secret that a new Star Wars movie is coming out in just a few months. StarWars.iOS, created by mobile app development solution provider Yalantis, honors the upcoming movie by providing the ability to implement Star Wars animation into applications.
"Have you ever thought that George Lucas' epic space opera can, in fact, be implemented on iOS? We got inspired by the everlasting battle between the dark and light sides that bind the galaxy together and [built] our fantastic UI animation that features the Star Wars' characters," wrote Artem Sydorenko, iOS developer at Yalantis, in a post.
StarWars.iOS is a component that allows developers to transition animation to crumble into tiny pieces. It can be used when closing out a Web page or application. Why let it just disappear when you can let it destruct? Add this fun animation to your applications, and may the Force be with you.
"I thought, 'What if the screen doesn't only close, but crumble into small pieces as if it's been hit by Force?' This sounded cool! I researched how to implement this in After Effects, and did what I just imagined. I used Shatter effect, which allowed me to implement the crumbling effect applying a lot of different settings," Sydorenko wrote.
Top 5 projects trending on GitHub
#1. Trix: A WYSIWYG text editor for everyday writing
#2. Smartcrop.js: Content-aware image cropping. Featured as last week's number one top trending project.
#3. React Desktop: a library for React UI Components designed for OS X El Capitan and Windows 10
#4. Awesome OS X Command Line: A list of shells commands and tools for OS X
#5. FreeCodeCamp: A place where programmers can learn how to code for free. Featured in a previous GitHub Project of the Week.