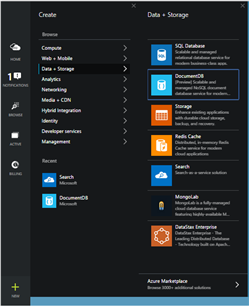 Microsoft has announced an update to its data platform with new Big Data and media services. Microsoft Azure now features Azure Search and Azure DocumentDB.
"For businesses to maintain a competitive edge in this complex and fast-changing climate, they need innovative ways to deliver the best customer experience with their products and services," wrote Vibhor Kapoor, director of product marketing for Microsoft Azure, on the company's blog.
Azure Search is a new Search-as-a-Service solution designed to allow developers to provide search features in their Web and mobile apps. The solution includes support for more than 50 languages, the ability to load data from the new Azure DocumentDB, Azure SQL Database, SQL Server on Azure VMs, and a .NET SDK.
"It reduces the friction and complexity of implementing full-text search and helps developers differentiate their applications through powerful features not available with other search packages," the SQL Server team wrote in a blog post.
Azure DocumentDB is Microsoft's NoSQL document Database-as-a-Service designed to enable developers to build, grow and scale cloud applications, according to the company.
"It offers rich query and transactional processing over a schema-free JavaScript Object Notation data model, which helps enable rapid development and high performance for applications," Kapoor wrote.
Azure DocumentDB will be generally available on April 8 and will feature three performance levels to provide finer control over throughput and cost of data.
In addition, the company also announced improved application security and the availability of A10 and A11 instances with faster processors, more memory, and more virtual cores.
More information is available here.