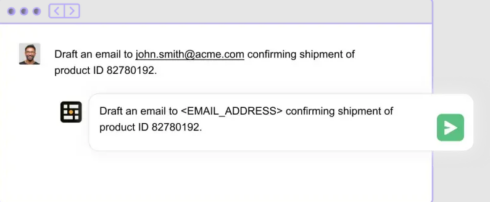 Cloud data security company Sentra has announced a new feature that removes Personal Identifiable Information (PII) from ChatGPT and Google Bard prompts. 
Named Sentra ChatDLP Anonymizer, the new feature helps minimize vulnerability around this critical personal data and helps companies ensure compliance with privacy frameworks, such as CCPA and GDPR. 
It is currently already available for ChatGPT and will be available for Bard the week of June 12. 
According to Sentra, if PII is included in ChatGPT or Bard prompts, it runs the risk of becoming part of the training data for large language models. And while these technologies can have productivity benefits, they raise concerns around data privacy and security. 
ChatDLP Anonymizer allows privacy-conscious companies the ability to use ChatGPT or Bard with privacy guardrails in place. 
It uses a Named Entity Recognition model to filter out PII like names, email addresses, credit card numbers, and phone numbers.
There is also an enterprise version of the tool where the redaction happens within the customer's own cloud infrastructure.
"In the race to capitalize on the power of this emerging technology, organizations are taking on new security and data privacy risks," said Ron Reiter, co-founder and CTO of Sentra. "Over the past few months, we were encouraged by a number of CISOs and security professionals to develop and deliver ChatDLP Anonymizer as a logical extension to our DSPM platform. By implementing this innovative technology, enterprises will be able to feel confident that employees are using AI language models safely."