Raw data suggest the open-source community remains dominated by men, but women in coding are crusading against these statistics and finding ways to achieve inclusivity.
One of these women is Marina Zhurakhinskaya, a longtime software engineer and Red Hat's first senior outreach specialist, who is devoting her career to making open source communities, like the ones that host their code on GitHub, more open to both women and minorities.
Studies in the past year concluded that there are fewer females in the open-source community than industry numbers suggest. According to a blog post written by Breanden Beneschott, cofounder of Toptal, of the 20,000 GitHub profiles analyzed by genderize.io, 926 (or 6%) of these profiles were women.
(Related: The importance of women in technology)
An engineer from Toptal, Anna-Chiara Bellini, added to the post, saying it's a common theme among female engineers to avoid contributing to a public project to avoid the excessive spotlight of being the sole female programmer. Other female engineers said they adopt gender-neutral or male names for their profiles so more contributors will take them seriously.
This slightly biased and unwelcoming environment is the one Zhurakhinskaya strives to change through her outreach efforts during her time at Red Hat, a company that recognizes the importance of diversity, with efforts like its annual Women in Open Source Award.
Getting started with open-source outreach
Zhurakhinskaya received her bachelor's and her master's degree in computer science from Massachusetts Institute of Technology, and she has been working to make the open-source community more diverse for years. She's spent 10 years at Red Hat, and in the summer of 2015 she was given an opportunity to start her own outreach role at the company. This new position allows her to work on inclusion, diversity and open-source full-time.
When she was a senior software engineer at Red Hat, Zhurakhinskaya was heavily involved with the GNOME desktop, and during that time, a GNOME nonprofit board member asked her to organize a mentorship program to get more women to contribute to the GNOME project.
This initiative became the Outreach Program for Women, which aimed to get women involved in free and open-source software. It provided a place for women to contribute and receive internship opportunities twice a year with free software organizations, and now that work is continued by Outreachy, which has expanded the program to include more underrepresented backgrounds like men of color, according to Zhurakhinskaya.
She later became a board member for the Ada Initiative, an organization for the open-source community dedicated to promoting and supporting women in open technology and culture.
"I learned a lot through my participation in the Ada Initiative activities, [and] some of the work that has changed the inclusivity of the open-source community came from the Ada Initiative," said Zhurakhinskaya. "Then about two years ago I realized I wanted working on diversity and inclusion in open-source to be my full-time role."
Making more progress
According to Zhurakhinskaya, bringing awareness to what makes an inclusive community is one way to improve the environment for women and minorities in open source. Also, setting standards for community interaction and determining how harassment should be addressed are proactive actions communities can take.
The way communities can keep up the progress women have made is by maintaining a welcoming environment, focusing on onboarding for newcomers, and continuing outreach efforts to get more women into the open-source world, said Zhurakhinskaya.
"It's up to each individual community that is formed around an open-source project, to make progress," she said.
She said organizations can mimic exemplary groups like the Python community, which created diversity scholarships for its Python PyCon conference. Additionally, the Python community increased the number of women conference speakers in the past year. These are incremental changes, but they're working, said Zhurakhinskaya.
Part of this change comes from Python's large network of PyLadies, an international membership group that focuses on getting active women participants and leaders in the Python open-source community. The PyLadies all come together to form one strong Python community, and they interact often through hackathons, meetups and chat platforms. Zhurakhinskaya said each community can take its own steps to form a more inclusive environment for everyone.
While there have been many initiatives across the different open-source projects, Zhurakhinskaya said diversity is really the next big project. Outreach needs to be expanded and open to people of color and those who are underrepresented in technology in the United States, she said, and this is where Outreachy's focus has moved.
Outreachy is looking to have more involvement with groups of color, so it has reached out to organizations like Code Start, an online coding boot camp and platform that works with at-risk youth to get them introduced to software development. Outreachy has even shifted its scholarships so they are not just for women.
The Unicorn Law of open source
While it has been tremendously helpful to have women role models in the spotlight, Zhurakhinskaya said organizations need to be careful of how they approach highlighting women in engineering, coding and open source. Recognizing them for their accomplishments and ensuring they get the visibility they deserve is necessary, but it's that spotlight that can be a bit "strange," she said.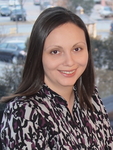 "I think we need to be careful and allow people to be an engineer first, and to let women determine what the sort of involvement they want to have in activities for engaging other women in technology, or whether they want to speak on the subject of women in technology [at all]," said Zhurakhinskaya.
She mentioned that in 2010, there was something called the "Unicorn Law," which was started by Emma Jane Hogbin, a Canadian technical writer and free software advocate. It was a sort of joke that stated, "If you are a woman in open source, you will eventually give a talk about being a woman in open source."
While the quote landed on T-shirts and was spread throughout meetings, Zhurakhinskaya said the community needs to stop asking female engineers questions about being a woman engineer, and let the person step up and engage on that topic if they choose.
It seems like a small favor to ask, but she said it is the little things like microaggressions (or subtle and indirect acts of discrimination against marginalized groups) that continue to set back inclusivity. She said an example of a microaggression would be something like, "Oh wow, for a woman you are a really great coder!" which can sound off-putting to someone, as being a woman has nothing to do with her ability to code.
On a company level, managers and leaders can improve inclusion in the workplace by doing unconscious bias training, which refers to the negative and positive stereotypes that exist in the subconscious and how it affects an employee's behavior. These stereotypes are things that would make an employee uncomfortable, even if the comments are not directly intended to harm or insult someone. Google completed its own unconscious bias training for its roughly 60,000 employees last February, according to a Forbes report.
Managers can also help by guarding against behavior where women might not have the chance to speak up in a meeting because there is someone more outspoken. Having assertive diversity and inclusion groups at a company can also help, because they allow employees to engage in outreach activities for themselves and the community.
While there is still a long way to go, Zhurakhinskaya said, "We are starting to make bridges and connections with groups that work with people from underrepresented or minority backgrounds."