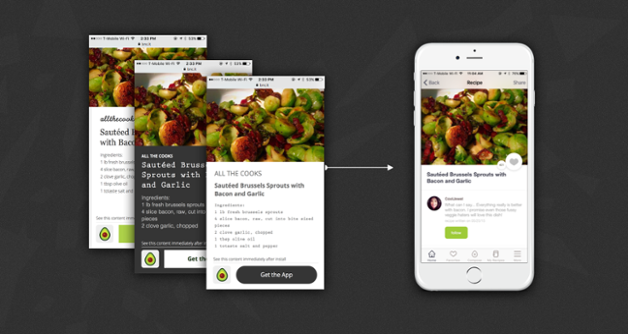 The deep-linking technology company Branch Metrics is providing more tools for developers to drive traffic to their mobile apps. The latest release provides the ability to customize Deepview templates, and to route users from Web content to mobile content. Deepviews is a tool that enables users to preview native app content before downloading the app.
"Users don't want your app; they want your content," said Alex Austin, CEO of Branch. "Deepviews show the user a preview of what they'll see in your app, which makes them dramatically more likely to download and engage with your app."
(Related: Previous deep-linking news from Branch)
The ability to customize Deepview templates allows developers to control the layout and change it to meet their app's design and goals. In addition, the latest release features new smart routing logic that automatically launches a developer's app from the mobile Web if the user already has the app installed. This gives developers the ability to control where their users are directed.
"We're excited to provide a whole new set of features for one of our most popular tools," said Austin. "Deepviews have changed mobile software development in two ways: First, they allowed companies to create fully hosted mobile websites to promote sharing and app discovery without any actual Web development. Second, they significantly increased the click-to-install conversion for hundreds of apps across our network. These new features will unlock Deepviews as the go-to mobile Web solution for all mobile apps."