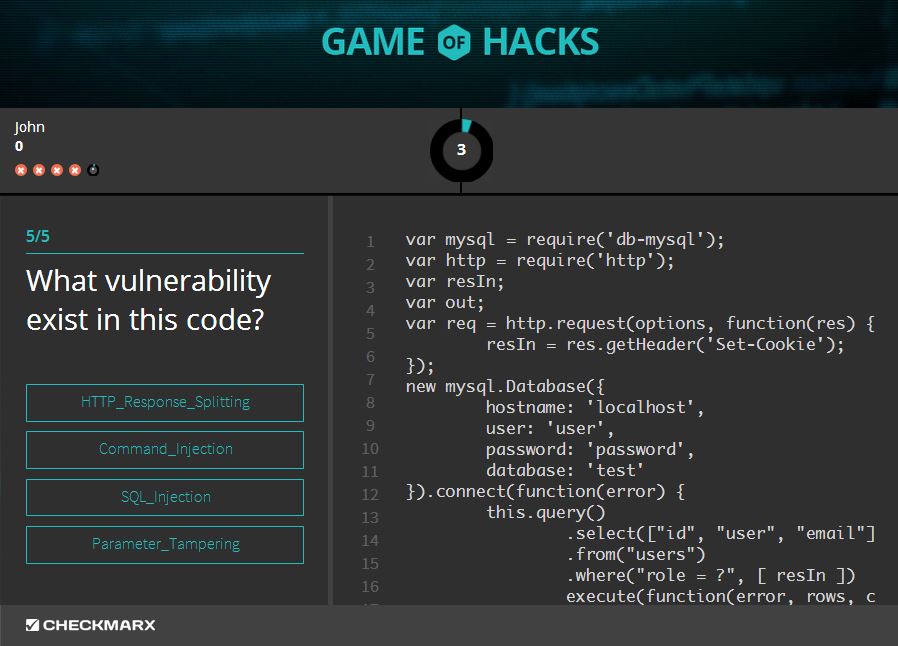 Game to sharpen developers' security skills
Application security firm Checkmarx has released a new game designed to help developers, coders and consumers improve their code security skills. Game of Hacks provides pieces of codes and challenges players to find the vulnerability as fast as possible.
"We repeatedly hear security managers concerned about the secure coding knowledge of their development teams and are looking to provide more training," said Asaph Schulman, VP of marketing at Checkmarx. "Game of Hacks was designed to sharpen developers' security acumen in a fun and interactive way so many of the most common security vulnerabilities can be avoided in the first place."
The game is available for desktop, tablet and mobile, and comes with a two-player mode for developers to challenge one another head on. – Christina Mulligan
Microsoft files lawsuit against Samsung
In 2011, Microsoft and Samsung entered into a legally binding contract that allowed the companies to cross-license patents, and now Microsoft is saying that Samsung has broken that contract.
"We don't take lightly filing a legal action, especially against a company with which we've enjoyed a long and productive partnership," wrote David Howard, corporate vice president and deputy general counsel at Microsoft, on the company's blog. "Unfortunately, even partners sometimes disagree. After spending months trying to resolve our disagreement, Samsung has made clear in a series of letters and discussions that we have a fundamental disagreement as to the meaning of our contract."
Microsoft states that Samsung has been using Microsoft's acquisition of the Nokia Devices and Services business as an excuse to breach the contract, but never asked the court to decide whether the acquisition invalidated the contract or not. – Christina Mulligan
Mozilla accidently leaks developers' e-mail addresses and passwords
Thousands of Mozilla developers' e-mail addresses and passwords were accidently released on a publicly accessible server, the company has announced. The issue was revealed on June 23 when one of the company's Web developers found that a data sanitization process of the Mozilla Developer Network site database had been failing for about 30 days. As a result, about 76,000 users and 4,000 encrypted passwords were leaked.
The company had conducted an investigation into the disclosure, but could not detect any malicious activity. "We are known for our commitment to privacy and security, and we are deeply sorry for any inconvenience or concern this incident may cause you," the company wrote on its blog. – Christina Mulligan