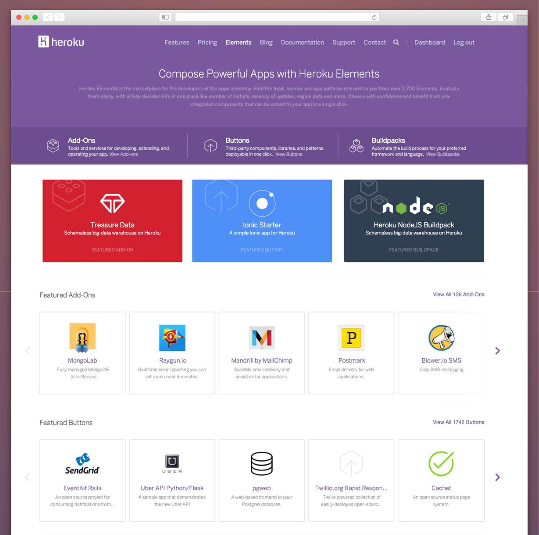 For the creators of cloud-based applications, standing on the shoulders of giants always saves time when reaching for lofty goals. With this in mind, Heroku, the PaaS company owned by Salesforce.com, has consolidated three types of third-party and user-generated content into a single marketplace known as Heroku Elements.
Launched today, Elements includes the already-existing Heroku add-ons marketplace, with the added twist of being able to easily search through the 150 or so premade plug-ins for the PaaS. Also in the Heroku Elements marketplace is a listing of Heroku Buttons and Heroku Buildpacks.
Buttons are links that can be embedded in GitHub pages. Clicking on said link immediately fires up that project in a fresh instance on Heroku. Heroku Elements marketplace now carries a listing of all the available Buttons out there, of which there are said to be more than 1,700.
Heroku Buildpacks are how the PaaS defines the build process for an application. Craig Kerstiens, product lead for the Heroku ecosystem, said Heroku Buildpacks are so popular that a competing PaaS accidentally sent Heroku a pull request when they forked the Buildpack code and renamed it for use in the product.
The more than 900 available Heroku Buildpacks can be perused in the Heroku Elements marketplace. Kerstiens said that this new ordering of available add-ons, Buildpacks and buttons will provide developers with much more detailed information on the tools they're examining.
"Essentially, what we're doing with Heroku Elements is pulling together all the underlying elements we have from our vast ecosystem," he said. Elements will give developers a window into the frequency of updates, the compatibility, and the popularity of various items, whereas previously each grouping was fairly opaque.