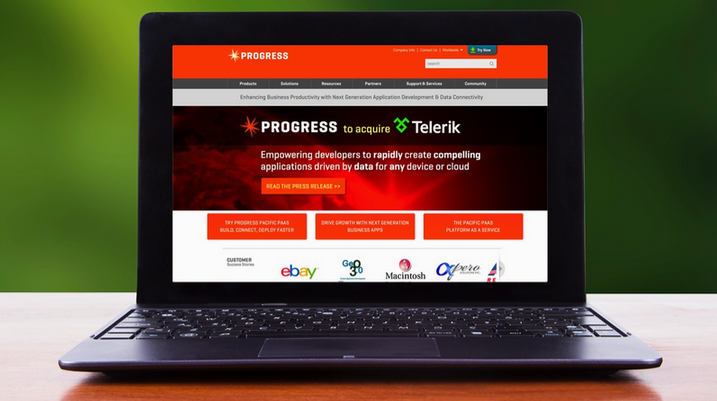 Progress Software has agreed to acquire application development tools provider Telerik for US$262.5 million.
Progress Software has a wide portfolio of development, deployment, integration and management applications, such as the OpenEdge, Pacific and Modulus platforms. The addition of Telerik's developer tool offerings—including the Kendo UI framework and UIs for Web and mobile development—augments the wider Progress enterprise application platform for the rapid development of data-driven applications for any cloud or device, according to the company.
"Our growth has been lagging because we have this existing legacy install base," said Karen Tegan Padir, president of the Progress Application Development and Deployment Business Unit. "As people are migrating their applications or creating new applications, user experience has become key. Telerik is an application development company, by developers and for developers, and their tools allow you to create beautiful apps with these widgets and components. They create the whole lifecycle of it starting from the front end but also testing tools, project management tools for collaboration all the way into analytics."
Telerik also brings its community of more than 1.4 million developers to Progress, as well as revenue of over US$60 million over the past year and annual bookings growth of more than 20%, according to the company's reporting. Telerik's cofounders and co-CEOs, Svetozar Georgiev and Vassil Terziev, as well as "key management" members will join Progress Software as part of the acquisition, according to a news release announcing the deal. According to Padir, Progress also plans to implement the online go-to-market experience of Telerik's website across its other platforms.
"We're now able to appeal to the largest developer populations on the planet. We have JavaScript and Node.js on our ABL [OpenEdge Advanced Business Language] and this opens us up to .NET in a space we haven't played before, and their mobile platform," Padir said. "We're about growing these companies together, bringing it all together in a hybrid cloud platform where developers can choose on-prem or cloud when it has business value. We provide developers with tools, products, services and platforms to rapidly create applications deployed on any device or cloud. With Telerik, we add the creation of beautiful applications appealing to a much broader set of developers."
The deal is expected to close in early December, which according to Padir is when developers can expect to see Progress and Telerik product integration. More information is available in a Telerik blog post from Georgiev and Terziev.