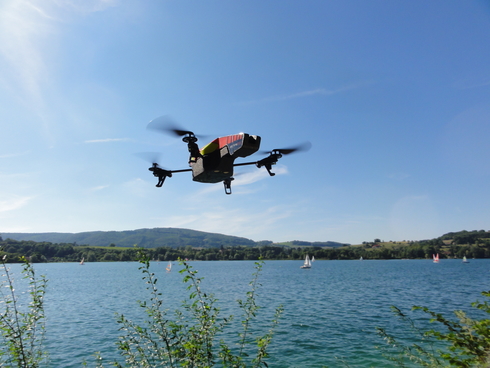 Despite the Federal Aviation Administration's (FAA) limit on commercial drone use, drone research and development is flourishing, and one industry is looking to take its research even further: journalism.
CNN just recently entered into a Cooperative Research and Development agreement with the FAA in order to improve and advance efforts to use drones for newsgathering and reporting.
"Our aim is to get beyond hobby-grade equipment and to establish what options are available and workable to produce high-quality video journalism using various types of UAVs [unmanned aerial vehicles] and camera setups," said David Vigilante, senior legal vice president at CNN, in a statement.
The FAA will collect data from CNN's research and use it to develop a framework that integrates drones safely into the journalism industry.
"Unmanned aircraft offer news organizations significant opportunities," said Michael Huerta, administrator of the FAA. "We hope this agreement with CNN and the work we are doing with other news organizations and associations will help safely integrate unmanned newsgathering technology and operating procedures into the National Airspace System."
Another group the FAA is working with to look into drones for journalism is a coalition made up of 11 news media companies. The coalition will partner with Virginia Tech to test drones in a series of real-life newsgathering scenarios. Virginia Tech is one of six drone test sites established by Congress to help the FAA collect data on the use of drones.
"Unmanned aerial vehicles, or drones, will provide new perspectives for all forms of journalism. They are far more safe and far less costly than helicopters, and they can reach more places from better vantage points than any other platform for aerial reporting," said Charles Tobin, leader of the media practice team at the law firm of Holland & Knight, which is representing the news media coalition. "From approaching rough-weather fronts, to environmental erosion, to higher-altitude and harder-to-reach news scenes, UAVs will provide greater range and flexibility for news organizations to safely tell stories and respond to breaking news events."
The FAA will use the data collected from the coalition to establish standards for the journalism industry to safely and flexibly operate drones for daily newsgathering, according to Tobin.
The coalition is made up of A.H. Belo Corp., the Associated Press, Gannett, E.W. Scripps, Fusion, Getty Images, NBCUniversal, The New York Times, Sinclair Broadcast Group, and The Washington Post.
"Virginia Tech sees this collaboration as a key to groundbreaking research to use UAS [unmanned aircraft systems] for the news and broadcasting industry on a routine basis," said Rose Mooney, executive director of the Virginia Tech Mid-Atlantic Aviation Partnership. "UAS can provide this industry a safe, efficient, timely and affordable way to gather and disseminate information and keep journalists out of harm's way. We are excited to be partnered with the consortium and the FAA to further UAS integration into the National Airspace System."