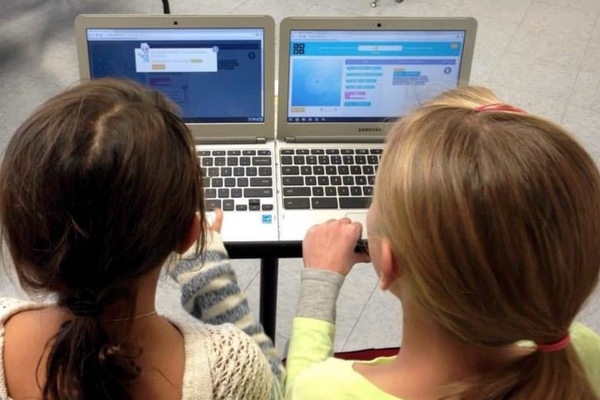 The third annual Computer Science Education Week (CSEW) kicks off this week, with an emphasis on bringing more women and minorities into programming. Code.org started CSEW in 2013, including the Hour of Code campaign, an initiative to get more talented and creative people interested in computer science in just one hour.
Non-profits, schools and experts in code and programming are all participating this week to give every student the opportunity to learn computer science, since only one in four schools teach the subject, according to Code.org. With one-hour tutorials all week long, it's designed to demystify code and show that anyone can learn the basics.
(Related: Code.org partners with College Board for nationwide CS education)
There are a variety of tutorials and projects happening this week, and below is just a glimpse at what this event has to offer students and teachers.
Apple stores around the world are supporting Code.org and participating in CSEW by hosting workshops and other events for kids ages 6 and up. Developers and organizations that support computer science education will be appearing at the stores, and some of these events will be available on iTunes as podcasts.
Today there is a special event in the Apple Store in Soho, New York. Starting at 6 pm, Hadi Partovi, cofounder and CEO of Code.org, will discuss the need for computer science education across the world. He will also talk about the 100 million students who have found success from Hour of Code.
The rest of the week, other speakers in major cities will talk about the importance of code. Tomorrow in San Francisco, cofounder, and CEO of codeSpark Grant Hosford will share how his young daughters inspired codeSpark's game The Foos. On Saturday, in Chicago, Danny Yaroslavski, founder and CEO of Lightbot, will talk about the fundamentals of coding and how children of all ages can learn for themselves. A full list of speakers and the Apple stores they can be found at are on this website.
Khan Academy, a non-profit educational organization, is joining Hour of Code as a way to introduce JavaScript. This tutorial is for middle schoolers and older, and supports modern browsers. Kids can learn the basics of JavaScript programming while creating drawings with code.