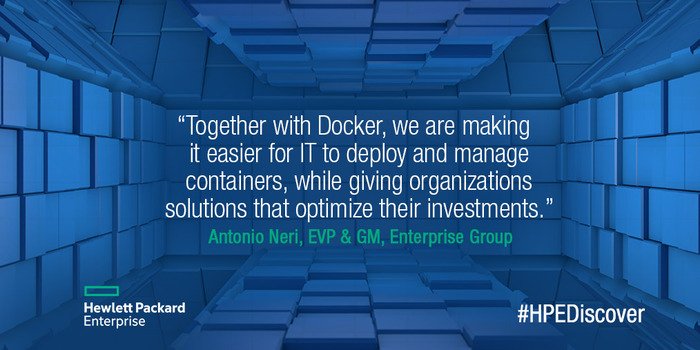 Docker and Hewlett Packard Enterprise (HPE) are teaming up to extend the reach of distributed apps across hybrid infrastructures and modernize the enterprise data center. Together the companies will provide engineering, support, services, and knowledge sharing solutions.
As part of this strategic alliance, the companies have introduced the Docker-ready server program, a solution to ensure HPE servers that work with Docker are shipped with Docker pre-installed and are supported.
(Related: Docker adds security scanning for containers)
"With new Docker-ready HPE servers, IT organizations have the ability to easily move from test/dev to production and achieve a highly available, secure environment at enterprise scale for Dockerized applications that work with HPE's extensive enterprise-management tools," wrote Bradley Wong, director of product management at Docker, in a blog post.
According to the companies, the alliance will provide Docker-ready HPE servers, Docker-ready converged and composable HPE systems, joint go-to-market solutions for Docker Datacenter, and enterprise-grade Docker support and consulting services.
In addition, Docker and HEP will introduce new HPE container-enabled technologies, such as HPE reference configuration for Docker Datacenter on HPE Hyper Converged 380; HPE reference architecture for Docker Datacenter for Converged Architecture 700; Docker-integrated native volume plugin for HPE 3PAR StoreServ all-flash arrays; Docker-integrated networking; Docker-integrated HPE SiteScope; Docker-integrated HPE OneView; and HPE Linux Docker support.
HPE will also invest in Docker's cloud and software portfolios through APIs, including HPE App Defender; HPE Operations Bridge monitoring, CMS and Universal Director configuration management; and HPE Helion Cloud Suite.
"In order to survive and thrive in the idea economy, companies must transform the IT experience so that lines of business and developers can innovate faster, smarter and fearlessly," said Antonio Neri, executive vice president and general manager for the enterprise group at HPE. "Together with Docker, we are making it easier for IT to deploy and manage containers, while giving organizations solutions that optimize their investments and power a new generation of applications that are the business."