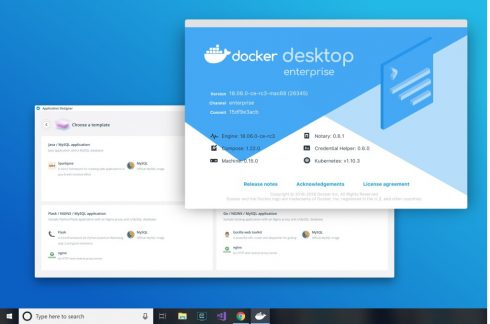 Docker is giving enterprise uses a new way to create and deliver container-based applications on their desktop. The company announced Docker Desktop Enterprise at its DockerCon conference in Barcelona today.
Docker Desktop Enterprise is designed for Mac and Windows. With it, developers can work with the framework and programming language of their choice, and IT has the flexibility to securely configure, deploy and manage developer environments, the company explained.
"Docker Desktop Enterprise provides a secure way to configure, deploy and manage developer environments while enforcing safe development standards that align to corporate policies and practices. IT teams and application architects can present developers with application templates designed specifically for their team, to bootstrap and standardize the development process and provide a consistent environment all the way to production," the company wrote in a post.
For IT teams, features include the ability to present developers with customized and approved application templates, and deploy and manage the solution with preferred endpoint management tools using standard MSI and PKG files.
For developers, features include configurable version packs and an application design interface for template-based workflows. The new designer comes with foundational container artifacts to help developers new to containers get started right away, the company explained.
"The success of Docker Desktop among developers has been that it is the best and easiest way to run a Docker Engine and tooling with popular orchestrators like Kubernetes," said Scott Johnston, chief product officer at Docker. "Customers came to us because they wanted a way to scale Docker Desktop across an enterprise-class environment with the additional security, standardization and management needed for delivering applications across the dev to ops lifecycle. Docker Desktop Enterprise enables organization to address corporate standards while providing an environment that fosters developer productivity."