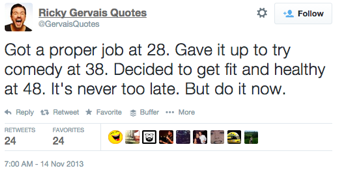 I love that quote from Ricky Gervais. It typically resides in a corner of my monitor, where it reminds me that no matter how much organizational or grammatical debt I've accumulated, it's never too late to get to work on what matters most to me.
As I saw at the recent STARWEST 2015 testing conference, what's important to many today is achieving some level of "continuous" in their software development life cycle.
"Continuous" has become the golden benchmark for so much of software: integration, testing, delivery, deployment—with Continuous Quality and speed being the ultimate goals for startups to enterprises and everyone in between.
(Related: Testing needs to catch up to agile and DevOps)
These aren't new goals, either. But as more companies step up at these conferences to share their story of, "How we reached Continuous ______," your leadership is going to expect greatness from you and your team(s) as well. Especially if it's your competitors on stage getting the applause.
At STARWEST, Continuous Testing was the week's leading topic by a mile. Speakers shared "keys," "good habits" and "strategies" for Continuous Testing; I counted nine different sessions that described a path to Continuous Testing just in the title alone.
As someone who has attended this show multiple years in a row, I found this not repetitive or lacking in variety, but promising for the future of software and the testers who help build it. In years past, the overarching theme would often be debates around manual vs. automated testing, or how testers can prove their value to an organization that fails to respect quality as much as speed. But as software failures and their economic impact continue to dominate headlines, I'm not sure Continuous Quality has ever been more sought after.
Manual and test automation camps have a huge opportunity to delight leadership and customers alike by embracing Continuous Testing, and not at the cost of speed.