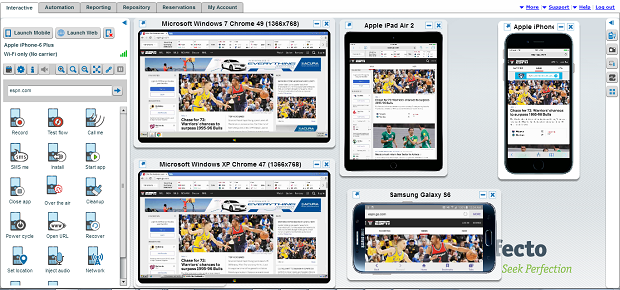 Enterprises are going through a massive transformation as to how they interact with an end user, since they are moving away from physical to digital interactions. Fundamentally, companies understand that the focus must change, but they need to determine how to create and deliver applications with the right experience.
Today, Perfecto Mobile, a company built around the digital experience, announced the next version of its cloud-based Continuous Quality Lab (CQL), which aims to help enterprises engage its users in the right way.
This version expands test coverage from mobile web and apps to include web browsers on desktops. This enhancement also provides enterprises with a complete quality lab, allowing the development teams to execute and analyze manual, automated and performance tests for digital channels side-by-side, on desktop browsers and real mobile devices under real end-user conditions.
Enterprises are still trying to change the way they reach the end-customer to become a digital touchpoint rather than a physical touchpoint, according to Roi Carmel, senior vice president of product management and corporate strategy.
An example he used was when a consumer goes to book a flight. They might start on their laptop, and on the way to the airport, they might check their app on their mobile device for status of the flight. Then, the customer might look at the updates on their wearable device or tablet.
"These enterprises are starting to look at the user experience across these digital platforms, across all screen sizes, and they want to create a consistent user experience so they can keep engaging their users," said Carmel.
With the digital release of CQL, development teams will be able to use one test strategy with one single script on all devices, including desktop browsers. The CQL's platform agnostic scripting of web apps across desktop browsers/OS combinations and real devices/OS combinations shortens test cycles by running mobile and web assessments at the same time.
The CQL also provides side-by-side analytics of digital test results to allow teams to focus on specific challenges supported by visual logs with screenshots, video and device diagnostics. Teams will be able to see all the platforms and how they behave, including which platform might be giving a low digital experience and what the business impact of that experience might be, said Carmel.
Since browsers update frequently, IT sometimes is unable to keep up with all of the browsers, even on desktop, said Carmel. With one single lab for 24/7 testing, it allows access to secure browser/OS combinations and real devices, including access to the most recent browser updates, new devices and both the latest and legacy operating systems.
These new features helps expand Perfecto's focus, as well as enterprises, from looking at mobile in a silo, to now looking at it digitally and expanding it across all screen sizes, merging both into one, said Carmel. This helps teams gain velocity by having the availability of the browsers they need immediately.
"[Enterprises] need to deliver much faster than they did before," said Carmel. "Because when consumer needs are changing, they expect their digital interfaces like apps or websites to reflect those needs."