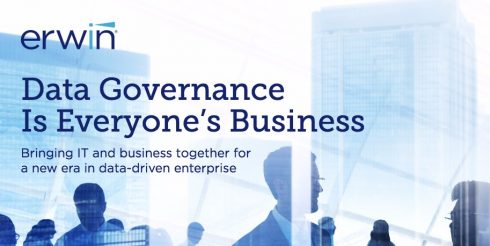 Data management and modeling company erwin today launched its new data governance software-as-a-service solution with the capability to enable disparate stakeholders to collaborate.
Erwin DG introduces data impact analysis capabilities that give stakeholders the ability to assess what could happen to business processes and other systems when changes to the data are made. In addition, it gives stakeholders a view into the data so they can identify where specific data resides.
"We're calling it data governance but it's so much more than data governance," erwin CEO Adam Famularo told SD Times. "It will transform they way organizations work with their data. From really understanding the data dictionary, business glossary, business people actually interacting with IT, creating and naming what the data elements are, to understanding lineage between data, to understanding data impact… how many times have people gone in to change a customer record from 12 characters to 15, and now you broke five other database structures over here that use the same element because you didn't know the data impact."
According to the company's announcement, erwin DG also features an integrated business glossary, data dictionary and data catalog, as well as lineage mapping and policy authoring. The company also announced the software provides support for any kind of data residing on-premises or in the cloud; role-based views of data; a common metadata repository for all systems that manage and protect data; and visibility across all domains.
"The big difference today is the point of collaboration," Famularo said. "In the past, you made do by doing a specific task, but without caring if it broke anything else. Now as systems get more complex, we need to get better at collaboration."