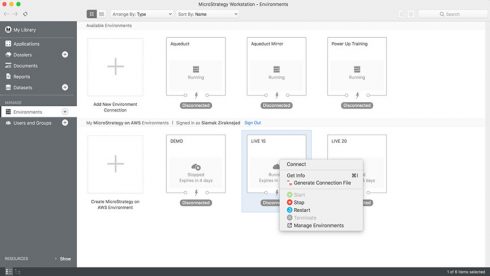 MicroStrategy has announced the availability of MicroStrategy 10.11 with a new native library app for smartphones, new geospatial services and custom charts for visualizing data.
In addition, the release introduces new out-of-the-box visualizations and intelligent recommendations for content.
"Version 10.11 empowers teams with self-service data discovery and departmental analytics, while creating the foundation for governed data discovery at scale and enterprise-worthy analytics," said Tim Lang, senior executive vice president and CTO for MicroStrategy. "The latest capabilities available in MicroStrategy 10.11 are central to MicroStrategy's commitment to deliver the next generation of enterprise analytics and advance our goal of building the ultimate analytics platform for the Intelligent Enterprise."  
Full details can be found here.
Red Hat Enterprise Linux 7.5 now available
Red Hat has announced the latest version of its enterprise Linux platform, Red Hat Enterprise Linux 7.5. Updates include enhanced security and compliance controls, tools to reduce storage costs, improved usability, and integration with Microsoft Windows infrastructure both on premise in Microsoft Azure.
"Red Hat Enterprise Linux serves as a scalable, flexible, and robust bridge across these footprints, and the latest version of the world's leading enterprise Linux platform provides even more capabilities, from security at scale to increased storage efficiency, to drive hybrid cloud forward in the enterprise," said Denise Dumas,VP of platform engineering for Red Hat.
Facebook launches Data Abuse Bounty program
In response to the Cambridge Analytica scandal, Facebook has launched a Data Abuse Bounty program in order to incentivize users to report app developers that misuse data. According to the company, the program was inspired by the existing bug bounty program that is used to find security vulnerabilities.
Facebook will be reviewing each report and if it confirms abuse, will shut down the app and take legal action against the company buying or selling the data. It will also notify those who may be affected and reward the person who discovered the data abuse.
The reward will be based upon the impact of the discovery. Facebook has stated that there is no maximum reward, but some high impact reports have resulted in $40,000 rewards.
C3 IoT and Microsoft are accelerating AI and IoT development
C3 IoT and Microsoft are partnering up to bring new initiatives that will accelerate AI and IoT development. The partnership will combine the C3 IoT Platform running on top of Microsoft Azure's cloud platform. According to the companies, this collaboration will provide customers with a way to accelerate the development and deployment of AI-based applications for uses such as predictive maintenance and dynamic inventory optimization.
"With this partnership, two market leaders are joining forces to drive digital transformation at the world's leading organizations," said Thomas M. Siebel, CEO of C3 IoT. "Combining the market reach of Microsoft, the amazing power of Microsoft Azure, and the capability of the C3 IoT AI platform, we will dramatically accelerate the adoption of AI, IoT, and elastic cloud computing globally."