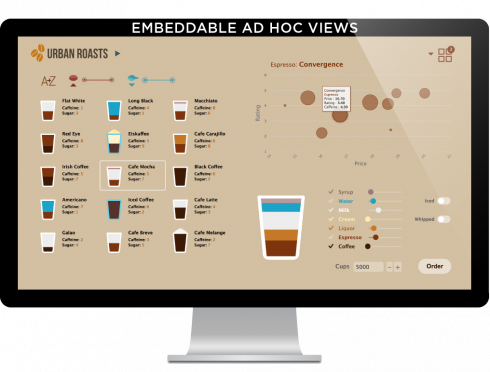 TIBCO announces the latest version of its embeddable business intelligence and analytics software. Jaspersoft 7 includes new capabilities designed to help developers differentiate their apps with data visualization.
Features include the data visualization view is now available as a BI component enabling individual visualizations that can be integrated into the app experience. This was built with the programmable JavaScript framework Visualize.js. Other features include support for two TIBCO analytics products and TIBCO Data Virtualization is now a certified data source.
"We saw an opportunity to create embeddable business intelligence components for developers, the ones who build modern web applications that seamlessly integrate data in a visual way, and most importantly, do it in the perfect context for users to take action," said Tom Tortolani, head of product management for Jaspersoft at TIBCO. "We continue to add more open, plug-and-play building block components with every release, enabling developers to create dynamic and immersive user experiences."
SonarSource integrates with Visual Studio Team Services
SonarSource has announced the SonarCloud extension for Visual Studio Team Services. This integration of SonarCloud provides automatic analytics and decoration of pull requests designed to keep problems out of source code.
"I am very happy that we could collaborate with Microsoft to make this integration possible. This extension brings the missing piece to a complete integration of our solution with Visual Studio Team Services, enabling any team to get an insight on the code quality at every step of the development process, from writing code in Visual Studio, through creating a pull request, to promoting code to production," said Olivier Gaudin, CEO of SonarSource. "Now Visual Studio Team Services users can truly implement a code quality practice that will bring significant improvements after only a few development sprints."  
Galamon raises $20 for efforts in AI
AI company Galamon has announced it has creating an artificial intelligence system capable of processing natural language and explaining what ideas are present and how they are organized. The system is based off the company's idea learning technology and designed to provide responses and experiences.
"Gamalon's mission is to accelerate human understanding by combining human and machine learning. It's easy enough for a business analyst to get started providing return on investment right away. When Gamalon's Idea Learning technology reads large amounts of text, and forms ideas, the AI becomes an extension of you — allowing you to read and respond to huge volumes of messages," said Ben Vigoda, Gamalon's Founder and CEO. "In the hands of a data scientist Gamalon can also be a sophisticated machine learning tool to perform data prep on many different sources of unstructured enterprise natural language – you can set it up to populate a target table or schema from the text."
In addition, the company announced a series A round of funding, raising $20 million.
Bugfender gets a major redesign
The cloud-based, remote logger for mobile apps is getting a major redesign. Version 2 of Bugfender features a rebuilt UI, a new frontend architecture in Angular, better overview of apps, teams and the log viewer, and improved search function.
In addition, the team added crash reporting, enhanced the log viewer, improved the user profile and team profile pages, and made several backend improvements.
"Bugfender started as an internal experiment, so we didn't give much thought to UI when we made it. But after chatting with real users across our spectrum of plans, we realized we had some limitations and flaws in the Bugfender architecture. As a bootstrapped, fully-remote company, we're committed to listening to real user feedback before writing a single line of code," the team wrote in a post.