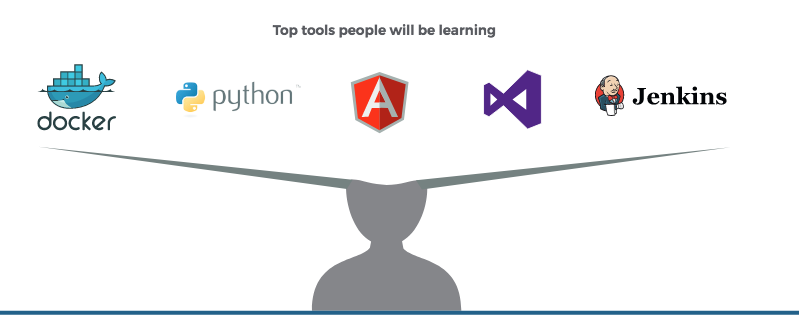 Packt officially released its third annual Skill Up survey, which takes a look at some of the biggest trends in the tech and developer space right now. The survey also is designed to show what tech jobs pay the most and what skills can help developers land their next job opportunity.
According to Packt's findings, the number one tool to learn today is Python, which Packt contributes to the language's surge in popularity over recent years. There has been an uptake due to its accessibility, featured standard library, ecosystem, libraries and its frameworks. The other tools joining Python in the top five tools category includes Git, Visual Studio, Eclipse, and Java.
The report also found that Python's popularity is here to stay — it came in second place as the tool to learn over the next year. Docker is also on the list for new tools to learn, especially with the increase in container adoption. In addition, Angular, Visual Studio and Jenkins made the list of top five tools to learn.
Packt's Skill Up surveyalso  looked at "the skills that pay the bills," or what positions are earning the most today. In the top five list, the ultimate earning powers include: C-Suite level managers, Big Data engineers, mid-level leads/managers, security engineers, and information architects. Developers and tech professionals in North America have the highest salary as compared to South and South-East Asia.
"So what do you need to learn to earn? Respondents with Splunk, Hadoop, Kafka, Chef, or SAS under their belt earn more than the average salary. It seems as though Big Data is the industry to be in," reports Packt.
Skill Up also takes a drive into the industry's lack of gender diversity. Out of the 4,731 respondents that participated, 90% were male. Packt asked respondents if they thought the tech industry does in fact have a gender diversity issue, and a majority (47.2 percent) agreed. A little over 20 percent didn't think there was an issue, and 28.5 percent "sat on the fence," reports Packt.
Male respondents from ages 18-24 years old were the least likely to agree that there is gender diversity issues, which may suggest a rose-tinted view stemming from a lack of industry experience, according to the report.