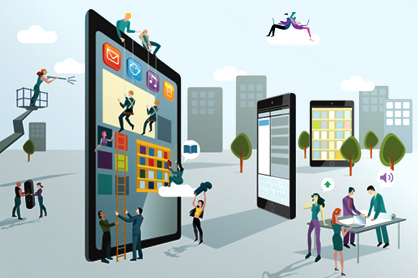 Organizations today understand the need to digitally transform their businesses, as customers do more shopping online and on mobile devices, yet the complexity of this transformation has made many organizations feel like they're already too late.
At the center of this transformation is the customer experience. That means websites that are always on and frequently updated based on product offers and customer location. It means providing a mobile experience, as more people shop right from their cellphones and expect a transaction as fluid and robust as one they would have on their desktop.
(Related: NativeScript 2.0 brings mobile strategy options for AngularJS developers)
The question, according to Telerik (a Progress company) chief evangelist Todd Anglin, is this: "How do (organizations) rethink how they leverage the technology around us in an intelligent way? How do I bring data into a phone with a location sensor in a way that creates these so-called magical experiences? Gluing it all together is a lot of moving parts."
The difficulty is clear, based on results of a survey Progress (now rebranded without the "Software") commissioned and released the results of today. Fifty-eight percent of respondents to the survey said the reliance on IT to deliver strategy is a barrier to providing improved customer experiences; and more than half said key barriers were a lack of skills and leadership in that area.
Meanwhile, 99% said the main driver for this digital transformation of business is optimizing customer experience and engagement, while 61% said customer engagement is the top priority for their company for the next 12 months. Further, 50% said their companies plan to invest in building applications in the next year.
To help organizations on the road to digital transformation, Progress today is introducing three DigitalFactory solutions—for websites, for mobile and for customer engagement, Anglin said. The solutions are built on top of tooling Progress has in its portfolio: Telerik development tools and frameworks, and the DataDirect data connectivity suite.
DigitalFactory for Sites "allows organizations with a global presence and thousands of websites to manage it all in a cohesive way," he said.
DigitalFactory for Mobile relies on Kendo UI and NativeScript for companies that want a mobile-first approach in a context-aware, data-backed platform, Anglin said. Developers can create apps for Android, iOS and Windows devices from the single platform.
Finally DigitalFactory for Engagement "looks at it from the customer angle," Anglin said. "You can take content and flow it across the website and mobile and have a single view of the customer by providing the data analytics and connectivity to systems to get that single view." The content command center within this solution is where marketers get this view, with an "author once" approach to create and reuse content across multiple devices and channels, according to the company announcement.
The solutions, Anglin said, "can bring together things organizations need to deliver a consistent experience, but it's not an all-or-nothing approach."
It is the tools that underlie the solutions that make this possible, according to Aaron Brongersma, a product marketing specialist at Progress. "Tools are better than they've ever been," he said. "We're finding organizations deploying 372 times in a three-month sprint cycle. Every test is tracked and measured, and decisions are being made quickly. The days of 18-month cycles are over."
Further, inter-team communication is starting to grow with Slack and WhatsApp; containers are driving Continuous Delivery; and metrics are now a first-class citizen, Brongersma said. "It's time to combine the tools into single platforms people can use."