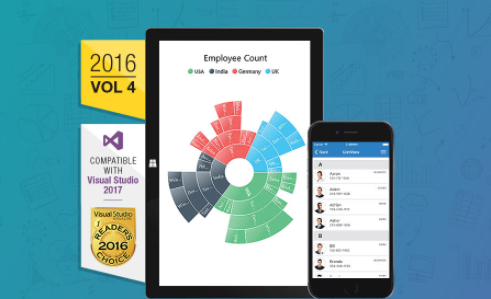 Syncfusion wants to ensure its frameworks provide all the latest Visual Studio features. The company announced Essential Studio 2016 Volume 4 with Visual Studio 2017 RC compatibility. Microsoft first announced Visual Studio 2017 RC on November 16 with improved productivity features, redefined fundamentals, streamlined Azure development, and enhanced mobile development.
"Visual Studio is very important to our customers, and sim-shipping a compatible version of Essential Studio guarantees Syncfusion frameworks are up to date with the latest Visual Studio has to offer, for its users and our own," said Daniel Jebaraj, vice president of Syncfusion.
In addition, Syncfusion's JavaScript, ASP.NET, Xamarin, UWP, WPF and Windows Forms frameworks have been updated with new and improved features. Highlights include: a new list view control for Xamarin, sunburst chart control for WFP and UWP, date range picker for JavaScript, and more than 40 controls for building dynamic websites in JavaServer pages.
Other features include: column reordering for tree grids, form filing for PDF viewers, new signature controls, advanced filters for XIsIO, and faster PDF conversions.