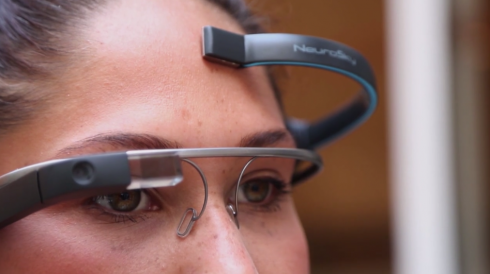 Wouldn't it be nice if you had the powers of Marvel's Charles Xavier and you could control someone else's mind? If someone was annoying you, you could just make him or her walk away. Mind control is a very attractive power, but it is also a scary thought. Sure, it would be nice if you had mind control, but what if you didn't and someone else did? Your mom could make you do the dishes even if you didn't want to, or someone could literally steal your identity.
Mind control is often a superpower of many superheroes, and while it seems like it isn't anything we have to worry about anytime soon…you might want to start worrying. A London-based firm, This Place, has just released an application that makes it possible to control Google Glass with your mind. It isn't quite as appealing as being able to control people, but it is a step in the right direction.
"As a user experience company we're constantly improving the way people interact with technology," said Dusan Hamlin, founder and CEO of This Place. "Imagine a world where you can interact with wearable devices just by thinking about the content you want. That's the world we're building, and we're just getting started."
MindRDR uses the device Neurosky MindWave Mobile that connects to Google Glass in order to monitor brain activity. Brain activity is expressed as meditation and attention levels. Attention levels indicate how active your brain is during the MindRDR session and meditation indicates your Zen.
Currently, MindRDR allows users to take photos and share them on Twitter and Facebook using only brainwaves, and provides users with visual feedback throughout the process.
I can only imagine the implications that could come out of this. The device can only take pictures and socialize them out at the moment, but what will happen when it can read your thoughts and socialize them out? Something to think about…or to not think about while using MindRDR. MindRDR is open source and available on GitHub for developers to provide feedback and contribute.