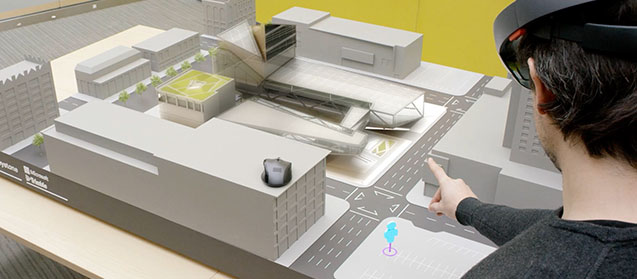 Microsoft is dedicated to creating new holographic computing experiences, but it needs some outside help to get there. To do so, the company today announced the Microsoft HoloLens Academic Research request for proposals (RFP) for the academic community.
"This emerging technology teems with opportunity, so we've issued this RFP to inspire the academic community to investigate the potential roles and applications for holographic computing in society," Jeannette Wing, corporate vice president for Microsoft Research, wrote in a blog post.
As part of the RFP, Microsoft will award a total of $500,000 and 10 HoloLens development kits to five recipients. The awards are meant to act as seed funding for larger initiative, proofs of concept or demonstrations, according to the company. Microsoft's primary areas of interest include data visualization; evolution of pedagogy in STEM, medical and design education; communication and distributed collaboration; interactive art and experimental media; psychology-related topics; and solving difficult problems as well as contributing new insights specific to an applicant's field.
"The primary goal of this request for proposals (RFP) is to better understand the role and possible applications for holographic computing in society. Additional goals are to stimulate and advance academic research in mixed reality and encourage applications of holograms for novel purposes," according to the company's website.
In addition, a new company has sprouted up to help advance the development of HoloLens apps. Object Theory is a new software development company dedicated solely to helping organizations create, develop and launch mixed reality applications for Microsoft HoloLens.
"The company was created on the shared belief of the founders that Microsoft HoloLens will have a transformative impact on the way we work, live, and play," said Michael Hoffman, founding partner of Object Theory, and former member of the Microsoft HoloLens Studios team. "With this new platform, our digital life will become more integrated into our physical world than ever before."
Object Theory will provide software development, user experience, design, quality assurance, training, development, maintenance and support services for HoloLens.
"We believe that the launch of our company signals the beginning of a shift from augmented reality being focused on almost exclusively on hardware innovation to a broader view of the emerging ecosystem," said Raven Zachary, founding partner of Object Theory. "Software will become a major component of the augmented reality economy, akin to the mobile app space in 2008."