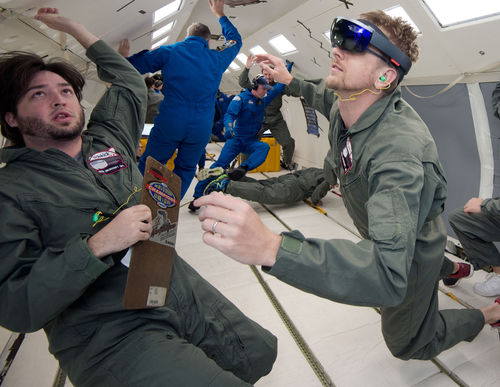 Microsoft and NASA have announced a collaboration to bring the HoloLens computing platform to space. As part of a project called Sidekick, Microsoft's virtual reality headset will provide aid to astronauts.
"HoloLens and other virtual and mixed-reality devices are cutting-edge technologies that could help drive future exploration and provide new capabilities to the men and women conducting critical science on the International Space Station," said Sam Scimemi, director of the International Space Station (ISS) program at NASA. "This new technology could also empower future explorers requiring greater autonomy on the journey to Mars."
A pair of devices is scheduled to launch into space on June 28. The goal of the project is to provide assistance to station crews when they need it, reduce crew-training requirements, and improve work efficiency in space.
(Related: HoloLens' debut hints at outer space application)
"Microsoft HoloLens is about transforming the ways you create, connect, and explore," said Alex Kipman, technical fellow for the Windows and Devices Group at Microsoft. "Sidekick is a prime example of an application for which we envisioned HoloLens being used: unlocking new potential for astronauts and giving us all a new perspective on what is possible with holographic computing."
The project will provide two modes: Remote Expert Mode and Procedure Mode. Remote Expert Mode will use Skype to provide real-time guidance. Procedure Mode will provide standalone procedures with animated holographic illustrations. Both of these features will be designed for training onboard the ISS.
In addition, Microsoft and NASA announced that Sidekick will be part of a larger collaboration for creating holographic apps in space exploration. To that end, the organizations have been working on developing OnSight, software that allows scientists to work virtually on Mars using the HoloLens.
"Our team is excited to be building virtual and mixed-reality tools that will make our explorers more efficient and effective," said Jeff Norris, project lead for Sidekick and OnSight.